Opening statement: Chieftains blast Ward, 54-6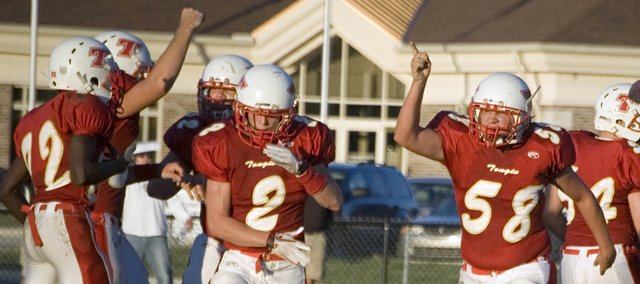 Photo Gallery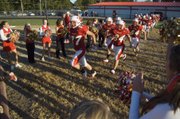 Tonganoxie football 54, Bishop Ward 6
The Tonganoxie High football team opened the 2010 season by pasting Bishop Ward, 54-6, Friday at Beatty Field.
If it's possible to make a statement in Week 1 of the football season, Tonganoxie High did it Friday by delivering a dissertation on domination.
The Chieftains opened 2010 by blowing out Kaw Valley League foe Bishop Ward, 54-6, at Beatty Field.
It was a far cry from the last time THS took the gridiron. The 2009 season closed for Tonganoxie with a 14-7 loss at Ward. This time around, facing a Cyclones squad that lost six players who are now on college rosters and had a new coach, Travis Grosdidier, making his debut, the cards were stacked in the Chieftains' favor.
"It kind of set up a real fun evening for us," said Tonganoxie coach Mark Elston.
The players may not have known what was in store, but Elston clearly had an inkling. Before THS (1-0 overall, 1-0 KVL) left the locker room before the game, the coach told them they were going to score on their first play. A few minutes later, just 20 seconds into the first quarter, senior quarterback Jeremy Carlisle ran 68 yards for a touchdown when Ward's defensive end shot up field and, Carlisle said, the Tonganoxie offensive line blocked perfectly.
"I just read what my offensive line gave me," Carlisle said of the play that set the tone for the drubbing. "They did a great job up front tonight, the whole game. That first play, I just got the right blocks and was able to break one."
Before long, the Chieftains had the ball back — after an interception and 39-yard return by senior defensive back Dylan Scates — and kept the pedal slammed firmly to the floor by scoring another touchdown on what was their second play from scrimmage, a 21-yard run up the right sideline by senior back Shawn Marin.
With Marin, who finished with 81 yards rushing and two touchdowns on only four carries, in the backfield, Elston said THS might be even more athletic than it was a year ago, because Marin makes football moves.
"He's hard to bring down. He's not overly fast and he's not overly strong," Elston said. "He possesses something that last year other guys who were fast didn't have."
There were a few things lacking for Ward on Friday. Among those were experience and speed but foremost was momentum. The Chieftains snatched that away early.
Up 14-0 less than three minutes into the game, THS kept making big plays. First, senior linebacker AJ Gilbert recovered a BWHS fumble. Then Carlisle scored from the one by squeezing through on a goal-line TD. Dallas Jacobs recovered a fumble on a kickoff, setting up a 38-yard touchdown run for Marin. Linebacker Lucas Ahart made a tackle for loss. Scates rushed for a 22-yard score. Carlisle hit Adrian Whittington for a 53-yard touchdown reception. And Tonganoxie left the field at halftime with a 40-6 lead.
Said senior fullback Ian McClellan, who scored the team's final two touchdowns in the third quarter: "In four years, I've never seen that much momentum."
Although THS compiled 472 yards of offense, the defense was a pleasant surprise. The linebackers, including Brady Waldeier and Jonas Myers, put a lot of pressure on Ward's backfield. In the secondary, Scates and Derek Lingo both laid out would-be Cyclones receivers with jarring hits and Marin picked off a pass. Elston described the defensive effort as "fierce" and said it made him proud because that side of the ball hadn't exactly looked tremendous in practice.
"I can only think of about five plays on defense where we were maybe out of position or didn't have what we needed called," the coach said.
The players, too, were proud of the defense, Marin added.
"We had a lot of people get some good tackles in the backfield and some picks out there. We were just executing as much as we could," he said.
Carlisle said the Chieftains wanted it more.
"Our defense was a big question mark coming into this game and we definitely stepped it up," he said.
As far as season openers go, the 48-point beatdown was just about perfect, McClellan said.
"I'm totally pumped, I'm excited," he said after rushing for 47 yards on seven carries. "But we've just got to take it one game at a time."
Next up for Tonganoxie is a 7 p.m. Friday matchup with Piper, in Kansas City, Kan. The Pirates defeated THS, 25-22, last season.