Tonganoxie cross country teams edged by Lansing in opener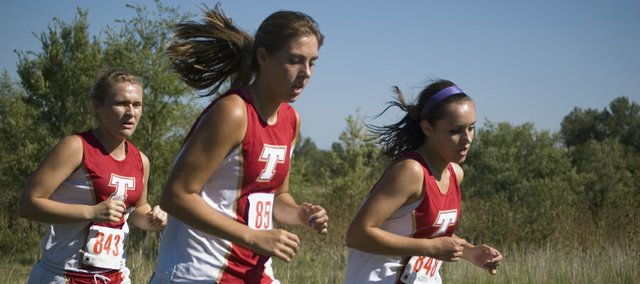 Photo Gallery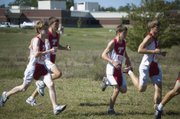 Chieftains cross country duals with LHS
Tonganoxie High's cross country teams opened their season Friday with a pair of losses in dual races against Lansing.
Just when the Chieftains thought it was time to run, Mother Nature let them down.
The nervous anticipation that comes with a season opener was put on hold for a full day for Tonganoxie High's cross country teams when a burst of severe weather Thursday postponed a dual with Lansing until Friday afternoon.
Neither rain nor lightning was an issue for the second take of the dual, but the THS girls and boys weren't able to fully enjoy the beautiful weather as the Lions came in and swept their home meet.
Tonganoxie junior Patrick Rachford, who led the boys with a third-place finish in the 5K, said he kept thinking the weather was going to pass by Thursday and that the teams would be able to compete.
"Mentally, that messed us up," he said, adding that the boys were pumped and ready to run before the races were postponed. "We weren't mentally prepared for this race today."
Likewise, the girls all wanted to run Thursday, said senior Alex Hauk. She finished fourth, one spot behind the team's best performer, freshman Emily Soetaert. Hauk said the girls might have lost some of their focus with the delay but didn't think that was the reason they lost to Lansing when the race finally started a day later than scheduled.
"Today, I think we would've done just as good as we would've done yesterday," Hauk said. "I don't think it makes any difference. It's just your mindset."
Chieftains coach Phil Williams said both teams looked better a week earlier at the Red-White scrimmage but didn't blame the postponement for losing the dual.
"I think it affected us some but it shouldn't affect us any more than it affects Lansing," Williams said.
There were a couple key runners missing for Tonganoxie on Friday, though. Hunter Cook, who had aggravated an old quad injury, was held out for the girls. Meanwhile, Dalton Harrington, who was present and ready to run Thursday, had to go out of town for a Labor Day weekend hunting trip in Wyoming. Williams said their absences had an impact.
In both races, THS occupied half of the top four spots but the top two went to Lansing runners (Caleb Himpel placed fourth for the boys).
Rachford, who emerged this summer as one of his team's top runners, said, despite his best showing to date, he would have preferred a Tonganoxie win.
"I did pretty well myself but the team as a whole is what I'm more concerned about," he said.
Still, seven medals were handed out in each race and the THS boys finished with three as Keith Slater nabbed the last one available with his seventh-place finish.
Because the dual lends itself to a wide-open course, the event is unique from the rest of the season. Hauk said the trial run is useful for the runners going forward.
"This lets us see where we're at and where we want to be when we get to the bigger (races)," she said.
Williams said both Lansing teams were better than he expected, especially the boys. He said although both Tonganoxie teams were focused and looking forward to the dual it might have been too much of a good thing.
"I think they were maybe a little bit overly pumped for the race," Williams said, adding he expects them to do better at their next meet, at 5:30 p.m. Thursday at the Atchison County Invite, in Effingham.
Tonganoxie-Lansing dual
Girls 4K
Lansing 21, Tonganoxie 40
THS results: 3. Emily Soetaert, 17:33; 4. Alex Hauk, 17:47; 10. Taylar Morgan, 18:44; 11. Parker Osborne, 18:57; 12. Emma Stilgenbauer, 19:29; 13. Amanda Shepley, 19:33; Alyssa Miller, did not finish (asthma).
Boys 5K
Lansing 23, Tonganoxie 32
THS results: 3. Patrick Rachford, 18:21; 4. Caleb Himpel, 18:28; 7. Keith Slater, 19:10; 8. Brady Field, 19:15; 10. Jeff Neal, 20:14; 11. Andrew Behm, 20:39.