Johnson County native to pilot war plane at this weekend's air show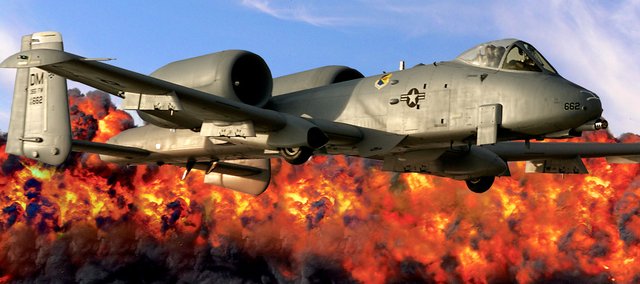 Update: A stunt plane crashed, killing its pilot, Saturday afternoon at the Kansas City Aviation Expo and Air Show, prompting show officials to cancel the rest of the day's events. Tickets will be honored at Sunday's show, according to KCI airport spokesman Joe McBride.
A Johnson County native and Kansas University graduate will be at the helm of a high-powered plane during the headline act of this weekend's Kansas City Aviation Expo and Air Show.
U.S. Air Force Capt. Joe "Rifle" Shetterly, who graduated from Olathe North High School, is part of the Air Force's A-10 Thunderbolt Demonstration Team.
The A-10's will be one of numerous sights — in the air and on the ground — at this weekend's show. Gates will be open from 9 a.m. to 5 p.m. Saturday and Sunday at the Wheeler Downtown Airport, 250 Richards Road in Kansas City, Mo. Flying demonstrations begin at 11:30 a.m. each day.
The A-10 Thunderbolt II, also known as the "Warthog," is known for its role in destroying ground targets in support of ground combat troops.
Shetterly and other A-10 pilots will put on a booming, pyrotechnic display simulating the aircraft's destruction of enemy targets.
Making the hometown performance even more special for Shetterly is the fact that his father, Greg Shetterly, will also be performing during this weekend's show in his One Design aircraft.

"This is really special for me," Greg Shetterly said in an announcement from the Air Show. "I sent my son off to the Air Force as an amateur (pilot) and they sent him back an expert. He has become my mentor as an aerobatic pilot."
In addition to the A-10 demo, this weekend's show will feature numerous military and civilian in-air performances, plus ground displays and activities for the public.
Planned acts include the U.S. Army Golden Knights Parachute Team, the U.S. Air Force Academy Gliders, a vintage Russian MiG17, multiple aerobatic acts and — on the ground — the Flashfire Jet Truck and a P-51C Mustang with an interactive exhibit commemorating the Tuskeegee Airmen, the first black fighter pilots to serve in the U.S. Army Air Corps.
The show is put on by the Mid-America Youth Aviation Association, a not-for-profit group that provides educational aviation and aeronautical opportunities for youth.
"We are extremely excited about this sensational lineup and especially that our headlining performer is one of our hometown heroes," Ed Noyallis, the association's executive director and chairman, said in a statement. "We are very pleased to once again bring a world-class air show to the great fans here in Kansas City."
For a complete schedule and more information about the show, visit kcairshow.com.
General admission tickets are $30 at the gate, with upgrades available for additional cost. General admission is free for children ages 15 and younger when accompanied by an adult.