McLouth's Leach signs with
UMKC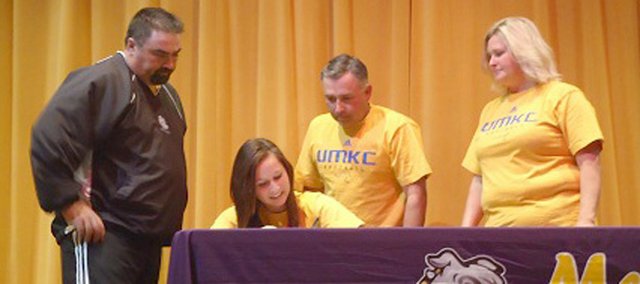 Prior to her senior year, McLouth High's Kendra Leach knew she wanted to play softball in college. However, where she'd do so had yet to be determined.
The wait came to an end on Nov. 9, when Leach signed a national letter of intent to play for the University of Missouri-Kansas City.
"It's like a thousand pounds just dropped off my shoulders," Leach said. "It feels so good to just be done and signed with someone and know you're going to play softball in college."
Leach signed at McLouth High in front of family, coaches and fellow students.
Prior to signing with the Kangaroos, Leach was considering three other schools. But, after meeting with UMKC coach Meredith Smith and taking a campus visit, she knew where she wanted to be.
"The coach, she's really nice," Leach said. "The school and all the stuff for kids to do over there, it was really good. Everything there just made me want to go there."
Leach, who transferred to McLouth from Pleasant Ridge as a junior, began playing softball at age seven. She's been a mainstay on the diamond ever since. Nowadays, when she's not playing for the Bulldogs, she hones her skills during the summer with the KC Jazz.
Leach's athletic abilities don't stop on the softball diamond, as she's also a starter on the McLouth girls basketball team.
Despite having played just one season in purple and gold, Leach said she's enjoyed her time in McLouth's athletic programs. She helped lead the Bulldogs to an appearance in the 2011 state softball tournament and has her sights firmly set on a return trip this spring.
"My goals, they're probably to win a lot of games, have fun and excel and make myself better," she said. "I want to make the team better and go to state. I really want to go to state this year.
"The girls are great. It's fun to play softball and basketball. Being there with them, it's a great time. They make it fun."
Leach and the Bulldogs will open their 2012 softball schedule at Perry Lecompton on March 26.