Prison Bureau seeking public comment on plans for new Leavenworth facility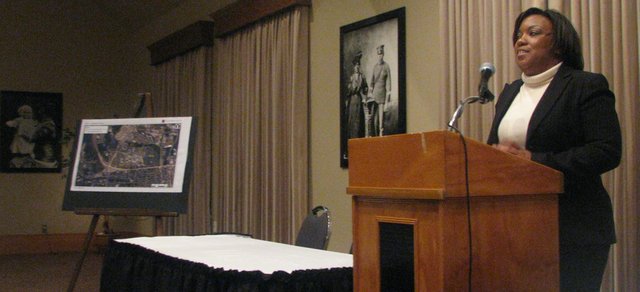 The Federal Bureau of Prisons is asking for public input on a proposed new federal prison in Leavenworth.
During a public scoping meeting on Thursday, BOP officials invited Leavenworth and Leavenworth County residents to give comments on the proposed prison as the bureau prepares to study possible environmental effects of the project.
"There are no issues too inconsequential for us to consider this evening, and in preparing the environmental impact statement," said Bridgette Lyles, site selection specialist for the BOP.
Lyles said the bureau is considering two sites on the grounds of the current U.S. Penitentiary bordering Fort Leavenworth: a 144-acre area to the west of the current prison and a 238-acre area to the east.
The bureau is studying the potential environmental effect of a new prison building on both sites, Lyles said, as part of a process required by federal environmental legislation.
Lyles said the project would provide about 300 new full-time jobs with an annual operating budget of about $40 million. The planned federal correctional institution and federal prison camp would hold about 1,500 medium-security inmates and about 300 minimum-security inmates.
Last week's meeting began the public scoping process, during which the bureau will invite public input on the proposed project before preparing an environmental impact statement. The bureau will also allow for public comment during a public hearing and two different comment periods later in the process before making a final decision.
During the public scoping process, the bureau will accept written statements from residents through Jan. 30, through U.S. Mail or fax.
Mail can be sent to Richard A. Cohn, Chief or Bridgette Lyles, Site Selection Specialist; Capacity Planning and Site Selection Branch; Federal Bureau of Prisons, 320 First St., NW, Room 5006, Washington, D.C. 20534.
The fax line for public statements is (202) 616-6024.