Basehor-Linwood hit hard by federal graduation rate change
Many virtual school students now count as 'non-graduates'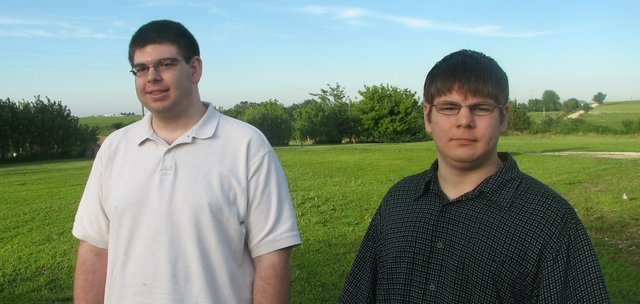 Chris Chase beamed as she laid two certificates, encased in glass and surrounded by thick wooden frames, on the coffee table.
They proclaimed that her son, Bryan Chase, had received "exemplary" scores on state assessment tests in reading and in math, a subject with which he had once had trouble keeping pace.
The certificates are displayed on the wall of the Chase home, in rural Shawnee County about 8 miles west of Topeka, because they are a source of pride, Chris said. But they also serve as proof that her sons' education was real, even if their school was "virtual." Bryan graduated from Basehor-Linwood Virtual School in 2010, and his younger brother Steven graduated in May this year.
"To me, that meant they are learning something," Chris said.
Bryan and Steven both enrolled at BLVS during their middle-school years after struggling in traditional public schools. To Chris, their diplomas are a triumph.
But for the purposes of the graduation rates soon to be reported by the state of Kansas, Bryan and Steven might as well have never earned their diplomas. The federal government has mandated that states report high-school graduation rates using a new formula beginning this year, and Basehor-Linwood school administrators say the formula discounts many students who take non-traditional paths in their education, as many of the district's virtual school students do.
The new formula threatens to send the Basehor-Linwood district's graduation rate tumbling by more than 20 percentage points, and it could force the district to choose between extending a helping hand to a student or protecting its funding and its reputation, administrators say.
Bryan and Steven would count as "non-graduates" under the new formula because they took longer than four years to complete high school — six years for Bryan, five for Steven. Brenda DeGroot, director of the virtual school, said classifying such students in that way didn't reflect that their graduation, even if it took longer than four years, was a victory.
"We were all happy about the boys, that they did graduate," DeGroot said. "The goal was that they graduate, and they were successful. But in the state's eyes, they were dropouts."
New math
Basehor-Linwood High School's graduation rate, which includes the virtual school, has hovered just under 100 percent in recent years, principal Sherry Reeves said. According to the Kansas State Department of Education, the rate for 2008-09 — the most recent rate reported — was 98 percent.
"It's never been a piece of data that we felt like we needed to address," Reeves said.
That rate was calculated using the previous rate formula, which, according to KSDE, counted only students who had dropped completely out of school as "non-graduates." True dropouts have been rare at Basehor-Linwood, Reeves said.
The new "four-year adjusted cohort" formula, which is required by U.S. Department of Education regulations published in 2008, tracks each student who enrolled as a freshman four years before and counts many students as "non-graduates" who would not have factored into the rate before, said Judi Miller, an assistant director at KSDE.
Those new non-graduates include students who do not graduate within four years — even if the delay results from a disability — and students who transfer to a home school or a private school that is not accredited by the state, Miller said.
The first graduation rates calculated under the new formula, which will be for the 2009-10 school year, will not be released online until likely later this month, Miller said. But DeGroot and Nicole Hodges-Williams, assistant director of the Basehor-Linwood Virtual School, said preliminary numbers had suggested the BLHS graduation rate would fall to around 75 percent under the new rate — the equivalent of a grade tumbling from an "A-plus" to a "C."
Miller stressed that rates calculated under the two formulas are not meant to be compared, and rates around the state would fall this year as the new formula is put in place.
But the statewide fall has not been as steep as Basehor-Linwood's. The state graduation rate under the new formula fell to 80.4 percent for 2009-10 from 89.3 percent under the old formula the previous year.
The new rate hits the virtual school hard for several reasons, the administrators said.
Perhaps the biggest group of virtual school non-graduates will be students who transferred back to a home school, DeGroot said. That's because the virtual school frequently enrolls home-schoolers whose parents are no longer able to teach them or who need to fill in a few extra class requirements.
"We've been this connection, this bridge, a welcoming of home-school families back into traditional education," DeGroot said.
Now those students, if they switch back to full-time home-schooling, will count against the graduation rate.
Many other virtual-school students, DeGroot and Hodges-Williams said, enroll there because traditional schools aren't working for them: They've had trouble keeping up with class material, they've had discipline problems or struggled with other things.
"They're not finding success in a traditional building, and they're just looking for another option before their kid actually drops out," Hodges-Williams said.
The virtual school, which was the first in the state of Kansas, enrolls about 330 students each year, DeGroot said, from within and outside the Basehor-Linwood area. Teachers from other schools in the district teach the virtual school's courses via the Internet.
But even though the virtual school may actually be preventing drop-outs by accepting such students, Hodges-Williams said, doing so now may threaten the school's graduation rate, because those students are often likely to require more than four years to finish high school.
The administrators say they have determined they will continue to accept students who may take longer to graduate, though the new rate formula does not provide much of an incentive.
"We're educators," Reeves said. "We're here to help kids."
'Different paces'
For Bryan and Steven Chase, their delayed graduations were the result of one year during which they helped their parents build their new home in the country, as well as a few courses which took them longer than planned to master.
Bryan said that ability to take longer to finish a troublesome class was one reason he had been able to learn more effectively through the virtual school than he had in traditional schools in the Topeka-area Auburn-Washburn School District.
"Different people learn at different paces," Bryan said. "I mean, I know I learned some subjects faster than I learned others."
Chris Chase said she had worried that in public schools her sons might be moved on from grade to grade each year even if they weren't ready, and the virtual school allowed her to be sure they were learning. Steven said he agreed that speed may not be the most important factor in finishing high school.
"They need to be sure that the education system is thorough, not necessarily hasty," Steven said.
Bryan and Steven both said the virtual-school system helped them be more successful. Bryan now does office work at a local insurance company, and Steven plans to enroll in the welding technology program at the Washburn Institute of Technology in Topeka.
Though the target graduation rate for high schools to meet the No Child Left Behind Act's adequate yearly progress standard for this year is 80 percent, the Basehor-Linwood district should still make AYP because its rate will have improved over the previous year's numbers under the new rate formula.
But failure to make AYP in future years could jeopardize state and federal funding.
And a 75 percent graduation rate may not look nearly as attractive as a 98 percent rate to families moving to the area who are looking for a good school district, Hodges-Williams said.
"Someone just looking at that number isn't always going to understand the history behind it," Hodges-Williams said.
Miller, the KSDE assistant director, said the state would help districts communicate to their patrons that the new rate is calculated differently and should not be viewed the same way.
But she said the regulations did not contain any measures to soften the blow on virtual schools, dropout recovery schools and other institutions that may be hit particularly hard.
"Federal rules are written one-size-fits-all," Miller said.
For her part, Chris Chase said she would continue to sing the praises of Basehor-Linwood Virtual School after the help it had given her sons.
"I love this school," she said.