Tonganoxie to approach county for help with
CR1

industrial park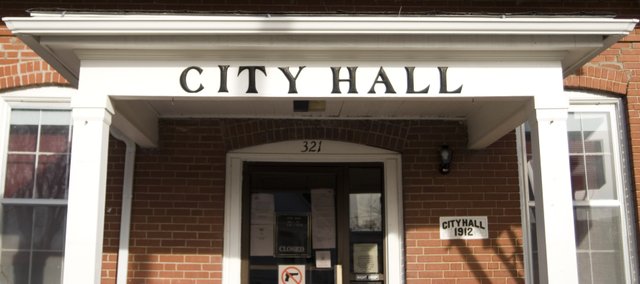 Satisfied with the numbers developed estimating the cost of opening the County Road 1 industrial park for limited development and those of proposed options to raise revenue for that purpose, the Tonganoxie City Council agreed Monday it was time to approach Leavenworth County officials about partnering in the project.
In the last two months, the council has received figures of the cost to develop 40 acres for one or two potential tenants at the park south of Tonganoxie and looked at options of how to raise the $1.925 million needed to extend scaled down water, sewer and gas service to the site, improve 2,100 feet of 222nd Street and do pre-construction grading of the 40 acres.
The council also learned last month that there was enough money in the city's water and sewer capital accounts to pay for the extension of a 6-inch water line and 3-inch forced sewer main to the site. Assistant City Administrator Kathy Bard explained Monday that fund is built through tap fees charged to new development to help fund improvements to serve future development. It is separate from a fee charged ratepayers used for maintenance and improvements, she said.
As promised, Bard presented the council with a list of proposed revenue options and estimates of their performance to pay down a 20-year bond, which would pay for the CR1 park improvements and the $1.77 million owed for the purchase of the 235-acre park. The revenue sources were:
• A monthly $1 surcharge on both the water and sewer bills. It is estimated the assessment would raise about $46,800 in 2012 and grow at 1 percent a year.
• A 1 or 2 percent franchise fee increase on the city's utility providers, which council members concede would probably be passed on to customers. It is estimated that would raise $41,880 in 2014, the first year opportunity the proposed raised could be applied to all the providers.
• A quarter-cent sales tax, which would require a citywide referendum to enact. It is estimated the tax would provide $100,000 and grow at 1 percent a year.
• One mill of ad valorem tax, which would increase to 2 percent when the current quarter-cent sales tax expires in 2023. The 1 mill proposed would raise an estimated $35,939 in 2013 and grow an estimated 1 percent a year.
Collectively, the revenue options would raise $254,939 in 2014, the first full year all could be put in place. Bard estimated the yearly cost debt payment on the 20-year bond would be $242,946 annually.
However, the revenue side assumed the $100,000 a year from the quarter-cent sales tax, a source Councilman Chris Donnelly said he was uneasy with and Councilman Bill Peak said was unlikely to be approved by city voters. Penciling the sales tax out of the equation would leave an annual $100,000 shortfall in debt service.