Chieftain golfers take sixth at Hayden Invitational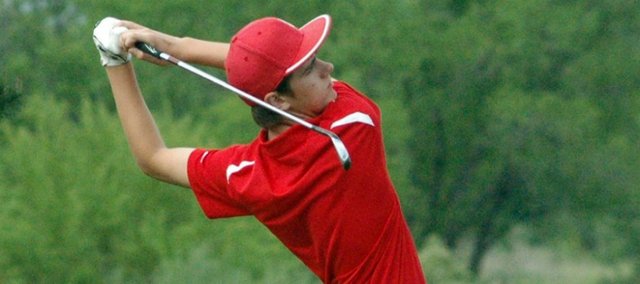 Photo Gallery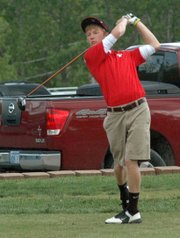 THS golf at Hayden Invitational
The Tonganoxie High golf team took sixth Monday at the Hayden Invitational. The Chieftains carded a team score of 327 at Topeka's Cypress Ridge Golf Course.
Topeka — History repeated itself Monday when the Tonganoxie High golf team finished sixth at the Hayden Invitational for the second consecutive season. The Chieftains finished with a team score of 327 at Cypress Ridge Golf Course in Topeka.
"Honestly, I don't know what to think right now," coach Jared Jackson said. "I thought we were solid, but there were a lot of other teams that played well. I don't think we played bad; we just didn't play real good."
Tournament champion Christ Prep edged out St. James Academy by one stroke, winning with a score of 315.
Senior Colby Yates led THS in individual scoring, finishing fourth overall with a 77. Yates started on the back nine and carded a 42, but bounced back with a 35 on the front nine. Sophomore Drew Sandburg (79) was the only other Chieftain to finish under 80. Sandburg finished in a tie for 10th individually, but didn't receive a medal after losing a scorecard playoff against St. James' Cody Hearn.
Senior Tanner Hale, junior Tyler Hall and senior Kody Campbell rounded out the team's individual marks with scores of 85, 86 and 93, respectively.
The tournament was the first action in nearly two weeks for Yates, Hale and Campbell. The trio of seniors hadn't faced live competition since they helped THS take third at the Mill Valley Invitational.
"(Rust) probably does play a role, I would guess, on the seniors' part," Jackson said. "There's a difference between practicing and playing competitively, and our seniors all played below average."
The Chieftains won't have to wait long for their next action — a trip Thursday to the Spring Hill Invitational. Competition is set to begin at 8 a.m. at Sycamore Ridge Golf Course.
During the quick turnaround, Jackson said the team will work to put Monday's performance in the rear view mirror and shift its focus to finding more success down the road.
"It's the same strategy we have every day of every season," he said. "You take each day as it comes and you get better each day. Last year, we played well at Spring Hill, so we'll see if that's the case this year."
THS individual scores
Colby Yates, 77; 2. Drew Sandburg, 79; 3. Tanner Hale, 85; 4. Tyler Hall, 86; 5. Kody Campbell, 93.
Team scores
Christ Prep, 315; 2. St. James, 316; 3. Piper, 319; 4. De Soto, 324; 5. Hayden Gold, 325; 6. Tonganoxie, 327; 7. Mill Valley, 334; 8. Hayden Blue, 335; 9. Basehor-Linwood, 350; 10. Kansas City Christian, 351; 11. Ottawa, 357; 12. Lansing, 377.
Top 10 individual scores
Joey Johnson, CP, 73; 2. Charlie Rinehart, PIP, 76; 3. Kyle Essary, DES, 77; 4. Colby Yates, TON, 77; 5. Logan Routh, CP, 77; 6. Ben Maskus, STJ, 78; 7. Nick Waite, DES, 78; 8. Nathan Roy, HAY, 78; 9. Parker Miller, PIP, 78; 10. Cody Hearn, STJ, 79.