McLouth softball sweeps
ACCHS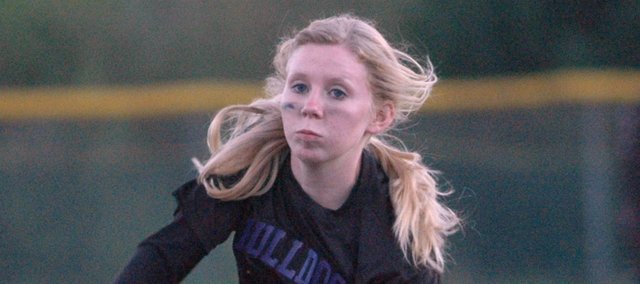 The McLouth High softball team extended its win streak to five games Monday with a two-game sweep at Atchison County Community High School. The Bulldogs (9-1) defeated the Tigers by scores of 6-1 and 13-0.
Senior Kendra Leach picked up the win in the first game, improving to 5-1 on the season. She struck out eight and allowed one earned run in seven innings. Fellow senior Morgan Drinnon led the way at the plate, going 2-for-3.
In each of her previous starts this season, Leach had pitched with junior Taylor Pope at catcher. However, Pope suffered a thumb injury during warm-ups, prompting a last-minute change.
Sophomore Amber McCowan took over catching duties and, according to coach Ballard Patterson, the transition was seamless.
"We were a little nerve before the first game, but Amber did a fantastic job behind the plate," Patterson said. "We didn't even miss a beat."
McCowan complemented her defensive outing with a solid hitting performance, going a combined 3-for-5 with a run batted in in two games.
Neither team could manage a run until MHS broke through with one in the fourth inning. The Bulldogs took control with two more in the fifth and led the rest of the way.
Freshman Angela Dailey (4-0) pitched the nightcap and extended her streak of consecutive scoreless innings to 26. She didn't allow a hit in five innings, as the Tigers' only base runner reached on a defensive error.
"Angie was being Angie," Patterson said. "She's going out there and just getting ground balls and pop-ups. It makes it real easy to play defense."
Sophomore Konner Patterson exploded at the plate, going 4-for-4 with two doubles, a triple and six RBI. Drinnon posted another multi-hit game, going 2-for-4 and knocking in two runs.
MHS will be back in action at 4:30 p.m. Tuesday when it welcomes Troy to town for a doubleheader.
Game 1
McLouth 000 122 1 — 6
ACCHS 000 010 0 — 1
Leading hitters: Morgan Drinnon 2-3; Amber McCowan 1-2; Kendra Leach 1-2.
Game 2
McLouth 114 70X X — 13
ACCHS 000 00X X — 0
Leading hitters: Konner Patterson 4-4, 2 2B, 3B, 6 RBI; Amber McCowan 2-3, RBI; Kelsey Campbell 2-3, RBI; Morgan Drinnon 2-4, 2 RBI.