Six Chieftains score in rout of Washington
Soetaert notches hat trick in 9-0 victory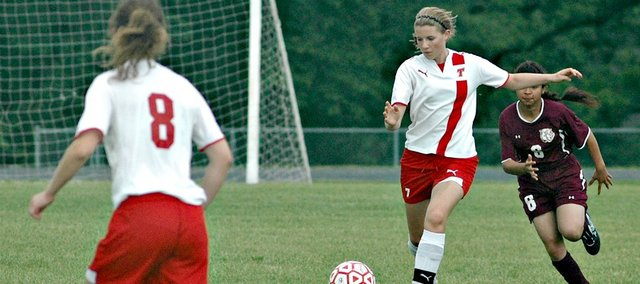 Photo Gallery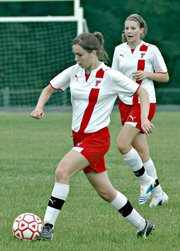 THS girls soccer vs. Washington
The Tonganoxie High girls soccer team rolled to a 9-0 win over Washington on Monday.
After struggling mightily through the first half of the season, it looks as though the Tonganoxie High girls soccer team is finally picking up steam.
The Chieftains won their second straight game Monday, handing Washington a 9-0 defeat at home.
"We've got to keep playing hard, keep plugging away," coach Justin Seever said. "We realize we've still got a lot of work to do. We can put ourselves in position to get a decent seed (at regionals)."
THS (4-8-1) took control of the game almost immediately, scoring five goals in the first 10:25 of the first half. Sophomore Madison Simmons opened scoring with her first of two goals less than four minutes into the game, and the Chieftains never looked back.
Sophomore Emily Soetaert, who notched a hat trick against the Wildcats, followed Simmons' score with back-to-back goals, giving her squad a 3-0 advantage with 30:33 left until the break.
Before the halftime buzzer sounded, four more Chieftains found the net. Senior Sarah Williams hit paydirt just 18 seconds after Soetaert's second goal, and junior Molly Welsh scored less than a minute later.
"That kind of took all the pressure off," Seever said. "That allowed us to empty the bench and let every girl play at least 30 minutes."
Others to score in the first half were freshmen Emily Williams and Brenna Kietzmann.
Soetaert scored the only goal of the second half, giving her five goals in the last two games. All three of her goals Monday were assisted — each time by a different teammate.
"I think we're starting to play more as a team and work together rather than being selfish," Soetaert said.
Since opening the season with an 0-5-1 record, THS has gone 4-3 in its last seven games. The Chieftains have averaged 3.7 goals per game during that stretch after managing just one goal in their first six contests.
They'll try to extend their win streak to three games on Wednesday when they travel to Basehor-Linwood for a Kaw Valley League matchup. Varsity action will begin immediately following the conclusion of the junior varsity game, which is set for 4:30 p.m.
"I think we just need to come out and work hard at practice," Soetaert said. "We need to keep trying to build as a team and working together."
First half scoring
36:31 — Madison Simmons (Tonganoxie)
33:49 — Emily Soetaert (Tonganoxie)
30:51 — Emily Soetaert (Tonganoxie)
30:33 — Sarah Williams (Tonganoxie)
29:35 — Molly Welsh (Tonganoxie)
22:16 — Emily Williams (Tonganoxie)
10:40 — Madison Simmons (Tonganoxie)
4:50 — Brenna Kietzmann (Tonganoxie)
Second half scoring
31:56 — Emily Soetaert (Tonganoxie)