Circus coming to Basehor will benefit Chamber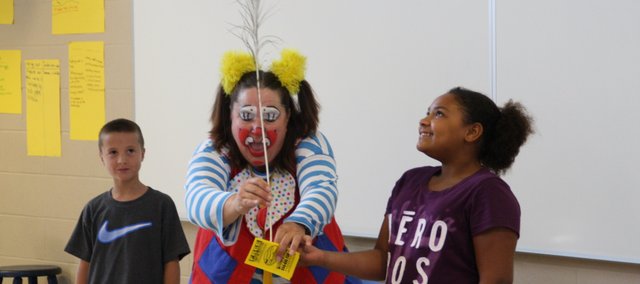 The circus is coming to Basehor, and anyone who buys a ticket will not only receive a seat under the big top but also help spread the word about the city to potential new residents.
The Culpepper and Merriweather Circus will stop by Basehor for two shows Monday, sponsored by the Basehor Chamber of Commerce. The big top will go up in the vacant lot just west of Orscheln's Farm and Home on Wolf Creek Parkway, and shows are set for 5 p.m. and 7:30 p.m.
The show will feature trapeze and high-wire acts, jungle cats and a variety of performers. It also will serve as a fundraiser for the Chamber of Commerce, which will use the proceeds to help publish a new promotional brochure for the city.
"We decided this might be a good fundraiser and good for the community, and the kids might enjoy it, so yeah, we're in," said Blake Waters, the chamber's president.
The brochures will go to potential new residents, including new employees at nearby businesses such as the new Cerner Corp. office in Kansas City, Kan., Waters said. They also could be distributed to potential new businesses. The chamber's current promotional brochure, Waters said, is outdated.
The publication will cost about $4,000 to $5,000, he said, and he hopes to raise about $1,500 toward that cost with the circus sponsorship.
Even if that doesn't happen, Waters said, he would be happy for the chamber to simply provide an out-of-the-box entertainment option for local families.
"It's just something different, something good for the kids to do and enjoy," Waters said.
Tickets are $9 for adults and $6 for children in advance and $12 for adults and $7 for kids on the day of the circus. Advance tickets are available at Basehor City Hall, the Basehor Community Library and the Basehor branches of three banks: First State Bank and Trust, Citizens Savings and Loan and Community National Bank.
Between 9 and 10 a.m. Monday, visitors can drop by the circus site to watch the 140-by-100-foot big-top tent go up and take a free tour.
Waters said, the circus will make for a fun night for Basehor families.
"If nothing else, it will be a good thing to do for the community," he said.