END

OF

AN

ERA

: Williams retires after 38 seasons at

THS
Longtime coach to be honored at Dec. 14 basketball game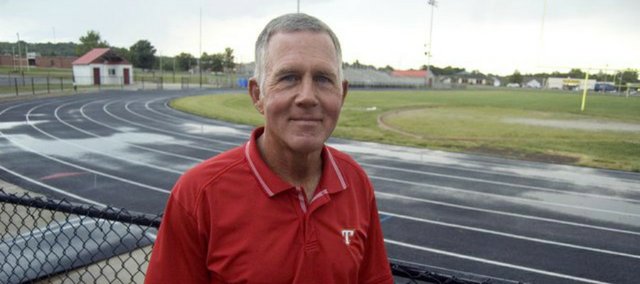 'PHIL' THE GYM
Longtime Tonganoxie High cross country coach Phil Williams will be honored in a halftime ceremony at the Dec. 14 boys basketball game against Basehor-Linwood. A ceremony will follow in the Chieftain Room. Anyone who ran or coached with Williams is encouraged to attend.
Photo Gallery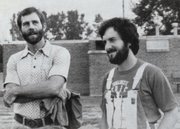 The many looks of Phil Williams
Take a look back at Williams' early years at Tonganoxie High.
PHIL WILLIAMS' CAREER BY THE NUMBERS
Girls league titles
1980, 1981, 1982, 1983, 1984, 1987, 1990
Girls regional titles
1990 (Eight top-three finishes)
Girls top-five state teams
1980 (Fourth), 1987 (Fifth), 1989 (Fifth)
Boys league titles
1980, 1982, 1983, 1984, 1989, 1990, 1991, 1992, 1996, 1997, 1998, 1999, 2000, 2001, 2004
— Tonganoxie also won 1969 league title before Williams' arrival
Boys regional titles
1979, 1982, 1989, 1990, 1991, 1999 (20 top-three finishes)
Boys top-five state teams
1982 (Third), 1983 (Fifth), 1985 (Fourth), 1989 (Second), 1990 (Second), 1991 (First), 1992 (Fourth), 2001 (Second), 2002 (Third), 2006 (Fifth)
Top-20 state finishers
22 (Two champs, 13 with multiple top-20 finishes)
As far as cross country numbers go at Tonganoxie High, coach Phil Williams practically wrote the book.
All but six years of the program's existence have been conducted with Williams at the helm, making him at least partially responsible for almost every trophy, plaque or medal earned by Chieftain runners in school history.
However, the orchestrator of nearly four decades of success finally is ready to pass the torch. Following the conclusion of the 2012 season, Williams announced his retirement from a position he held since the fall of 1975.
"The last few years, I knew I wasn't going to continue to coach for too many more years," said Williams, who chose to continue coaching when he retired from teaching at the end of the 2003-04 academic year. "I've got a growing family with more grandkids, and I got a new one in the spring, so I wanted to spend some more time with them.
"I told the kids I picked this year because everything went so well. It wasn't our most successful year record-wise, but it was one of the most enjoyable. I wanted to have a good, positive memory of cross country."
Positive memories on the course haven't been too hard to come by during Williams' tenure, which includes 22 league titles, seven regional titles and one state title. The boys won four consecutive league titles from 1989 to 1991, then reeled off a stretch of six straight from 1996 to 2001. The girls enjoyed a similar run of dominance, capturing five straight league crowns from 1980 to 1984.
Perhaps the most impressive three-year stretch of Williams' career began in 1989. That year, Janet (Magner) Strickland became Tonganoxie's first-ever individual state champ and the boys finished second in the team ranks. One year later, the boys and girls each won regional titles and the boys repeated as state runners-up. They cleared the second-place hurdle the next year and captured the 1991 state title, thanks in large part to individual state champ Jason Hagg.
"Every year has been memorable, but if I had to pick one thing, it was a lot of fun to be state champs," Williams said.
The Chieftains came within six points of winning another state championship in 2001.
The list of individual state qualifiers coached by Williams is seemingly endless, but for so many of them, just running at state wasn't enough. Strickland and Hagg headline a list of 22 Chieftains who earned top-20 state finishes under Williams' watch, including 13 who did so more than once.
"Coach Williams is obviously a good coach who expected us to work hard," said Shawna (New) Gilmore, a 1991 THS grad and three-time top-20 finisher at state. "He was a very consistent coach, so we'd go to practice every day knowing we'd have to work hard. He was always pushing me to my limit, but never beyond. I always felt that he was confident in me, so that made me have confidence in myself."
Gilmore was one of several Williams products whose cross country career didn't end in Tonganoxie. After graduation, she ran her way to All-America honors at Pittsburg State University. Williams continued to produce collegiate runners throughout his tenure as head coach. His most recent signee, 2012 grad Patrick Rachford, just finished his freshman season at Allen Community College.
Many of Williams' runners went on to find success beyond the high school ranks, but preparing kids for college was hardly part of the philosophy he followed throughout his career. Instead, he always emphasized to his runners the intrinsic values of the sport — values that can never be displayed in a trophy case.
"I've just tried to teach the kids to go out and work hard just for the feel of doing it yourself and for no other reason than you've accomplished something," he said. "I think that's one of the most rewarding things. It has to be a self-motivational thing. You have to really set some standards for yourself."
Williams' retirement comes one year after he stepped down as the Chieftain boys track and field coach. He's also had stints as an assistant coach on the football and basketball teams, and he's currently the announcer for home football and basketball games.
Williams' year-round involvement with Chieftain athletics has made him synonymous with a school he's been a big part of since Gerald Ford was in the White House — a rare distinction in a day and age where allegiance and longevity have seemingly lost their value, particularly in the world of coaching.
"I think that speaks to his loyalty the school and to the town, and to the character and class with which he's represented himself," THS athletics director Brandon Parker said. "It takes a strong individual to stay in coaching that long. I think he's shown what kind of man he is through all his service to the students and this community."
With plenty of relatives — especially his grandchildren — living in Tonganoxie, Williams has no plans to leave town. When he's not spending time with his family, he'll continue to work part-time at Peruvian Connection, where he does maintenance work. Additionally, he and his wife, Jeanie, have a cabin at Lake Dabinawa near McLouth.
"There's not much spare time, really, even with retiring," he said.
So, with Williams' coaching career officially at its end, how do the Chieftains go about replacing the man responsible for nearly every bit of cross country success the school has ever seen? According to Parker, it simply can't be done.
"I don't think you ever replace Phil," he said. "We'll find a new coach and start a new era, but it would never be fair to try to replace him. After 38 years, I don't know how you replace that. We'll look for someone who's got the same ingredients as coach Will — high integrity and a classy individual who cares about the kids more than anything else."