Chieftain girls overcome poor shooting to defeat Pirates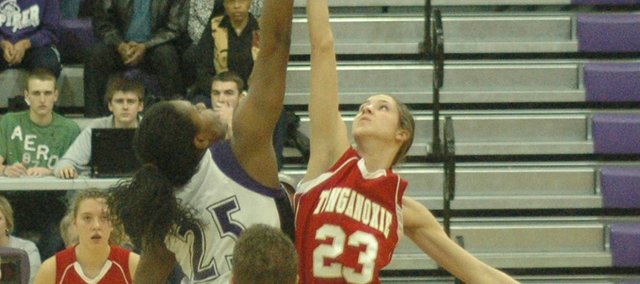 Photo Gallery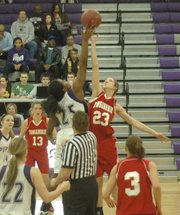 Tonganoxie at Piper
The Tonganoxie High basketball teams travelled to Piper on Friday, and both left victorious. The girls picked up a 37-33 win, while the boys came back for a 72-67 victory.
Kansas City, Kan. — To call this one of the Tonganoxie girls' toughest offensive games would be an understatement. But, when it was all said and done, it was still enough.
The Chieftains didn't get on the scoreboard for nearly 10 minutes and failed to reach 40 points for just the third time this season, but held on for a 37-33 victory at Piper on Friday.
Both teams struggled to find any offense in the early going, as the Pirates (7-7) led just 6-0 at the end of the opening period. They extended their lead to 10-0 before the Chieftains (10-4) made their first basket — a jumper by senior Haley Smith with 6:42 left in the second quarter.
"They play man, but they really sag," THS coach Randy Kraft said of the Piper defense. "We're not used to that, where they have the lane plugged up. We didn't score because we weren't running our offense. We were standing around a lot."
Junior Jenny Whitledge provided a bright spot to an otherwise forgettable shooting night. She hit a layup with 5:08 left until halftime, sparking a 14-6 run. That got the Chieftains within 18-16 at the break.
Whitledge scored nearly half the team's points, finishing with 17 on 8-of-12 shooting. She also led the team with six rebounds.
"When I feel like I can do something with the ball, that's when I want the ball," Whitledge said. "When I get in that rhythm, I don't feel like anybody can stop me. I need to be a little more consistent with that."
Aside from its leading scorer, THS shot just 21.4 percent from the floor (6-of-28) and 54.5 percent from the free throw line (6-of-11).
Despite their offensive struggles, the Chieftains opened the third quarter on a 5-2 run and took their first lead on a free throw by junior Hannah Kemp with 3:57 left in the period. Poor shooting kept them from gaining much separation, though, and they took a 29-25 lead into the fourth.
Piper hung tough in the final period an got within one point on two different occasions, but THS iced the victory with free throws in the final minute. The Pirates capitalized on several second-chance opportunities down the stretch to stay within reach. They out-rebounded Kraft's squad by a 39-24 margin.
"Their big kids are good. They rebound well," Kraft said. "In the fourth quarter, that's the one thing that kept them close. We just couldn't get boxed well. It gave them too many chances."
The win is the Chieftains' third straight and their seventh in the last eight games. They'll try to keep their win streak going on Tuesday when they play host to Mill Valley at 6 p.m. They dropped a 45-28 decision at MVHS on Jan. 6.
Score by quarter
Tonganoxie 0 16 13 8 — 37
Piper 6 12 7 8 — 33
Individual scoring
TONGANOXIE — Jenny Whitledge 8-12 1-2 17, Haley Smith 3-3 0-0 6, Hannah Kemp 2-4 1-2 5, Tavia Brown 1-5 3-4 5, Madee Walker 0-4 3-4 3, Emma Stilgenbauer 0-8 1-2 1, Amanda Holroyd 0-4 0-1 0.
PIPER — Whitney Morrow 2-5 6-8 10, Tyler Johnson 3-6 2-2 8, Conner Shriver 2-3 1-2 5, Megan Wooley 2-7 0-1 4, Carley Zwart 1-7 2-4 4, Sydney Mansaw 1-9 0-2 2, Tori Webb 0-1 0-0 0.