Final bows: 'Yonkers' marks last performance for three Tonganoxie High seniors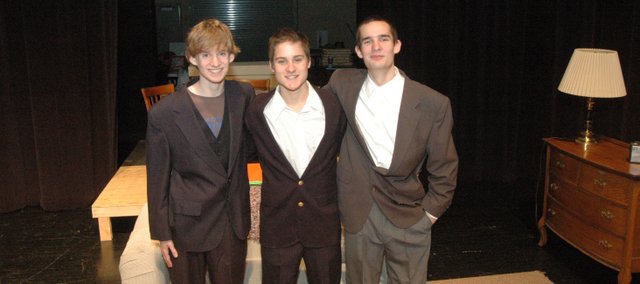 Audition for "Beauty and the Beast" or lose your car keys.
Michael Christensen chose the former his sophomore year and has been enjoying theater ever since.
The Tonganoxie High School senior, who is preparing for his final THS production this week, recalls his mother giving him an ultimatum more than two years ago: try out for the school play or try walking for his main mode of transportation.
"My mom threatened to take away my car keys if I didn't go out," Christensen said. "So I did and still had my car keys. And I found out I loved theater."
Michael's mother, Lisa Christensen, said it took some coaxing, but Michael finally agreed.
"I knew with all my heart that he would love it if he would just give it a chance," Lisa said. "It was a pretty rough few weeks around here before he finally agreed to try out.
"But, in my defense, he will now tell you that it is the best thing I ever did for him."
Christensen is one of three seniors participating in his final production.
Fellow senior Wes Williams has been involved in plays and musicals the past two years, including the pit band for musicals.
Brady Field is the most seasoned of the seniors. He has participated in musicals and plays all four years of high school, following a family tradition of acting in THS plays. He's acted alongside older siblings Ben and Haley and younger sister Halston in the four years.
During his high school career, Brady has taken pride in providing a product for the public.
"I like entertaining an audience," Field said. "Then they go out and tell you how you did. It's a really awesome feeling."
The many school plays and musicals have afforded the opportunity to grow close to classmates, according to Williams.
"It's like this is your family," Williams said. "You spend time with them at least two times a day and get to know them really well."
As for the senior who has kept his driving privileges intact since his sophomore year, Christensen has enjoyed returning to the stage for more.
"I come back because it's fun and I love hanging out with everyone and doing (plays)," he said. "I think Mr. (Steve) Harrell and Mr. (Ken) Church are wonderful. We're lucky to have them."
Tonganoxie High's theater instructors, Harrell and Church have spent many a hours working on plays and musicals with the seniors, from "Little Shop of Horrors" and "Li'l Abner" to "Beauty and the Beast" and "Leaving for Iowa."
But this week's performances will be different. Though it has its humor, "Lost in Yonkers" is a more serious play with some adult language and is not intended for younger audiences.
"I feel they have been safe because they haven't been as deep as this one," Field said about recent THS productions. "When you have a serious message, it's harder to get that through to the audience."
For the cast of nine THS students, the Neil Simon play requires a challenge: speaking with a New York accent.
Christensen said the group has leaned on THS teacher Christine Biel, who is from New York, for help in pronouncing certain words.
The cast has been preparing for the play since it returned from winter break. The seniors admitted the in-the-round format offers less room for error because the audience is right there with you. And there's really no backstage with the arrangement.
"There is really no small character," Williams said. "Every character is vital to the storyline."
"Lost in Yonkers" is Simon's autobiographical account of his family's life in Yonkers, N.Y., during the early 1940s. The story centers on two young brothers who must live with their grandmother, uncle and aunt while their dad is traveling throughout the South buying scrap metal in order to earn enough money to pay a large debt incurred from his wife's long illness and subsequent death.
Field plays the part of the oldest boy, 15-year-old Jay Kurnitz. His 13-year-old brother, Arty, is played by sophomore Thomas Fox. Williams plays the part of their father, Eddie Kurnitz. The part of the boys' Aunt Bella Kurnitz, is double-cast, with junior Kelsi Briggs playing the part during two performances and sophomore Katie Schenk playing Bella in the other two. The part of the boys' Aunt Gertrude Kurnitz is also double-cast, with sophomore Bonnie Monihan and freshman Lauren Harrell playing the part.
Rounding out the cast are Christensen as Uncle Louie Kurnitz and junior Mallory Harrell as Grandma Kurnitz. The director's assistant for "Lost in Yonkers" is junior Amy Wilkins. Helping with the production aspects of the show are THS students Lauren Hughes, Taylor Clark, Samantha Jones, Quin Smith, Samantha White, Allie Irick, Danielle Irwin, Nathan Tuter, Paige Laurie and Megan Behm.
Performances will be 7:30 p.m. Thursday, Friday and Saturday and 2 p.m. Sunday. All performances will be at the Tonganoxie Performing Arts Center at THS.
Tickets are $4 and seating capacity is about 90 for each performance.