Erickson reaches 1,000 career points in senior night win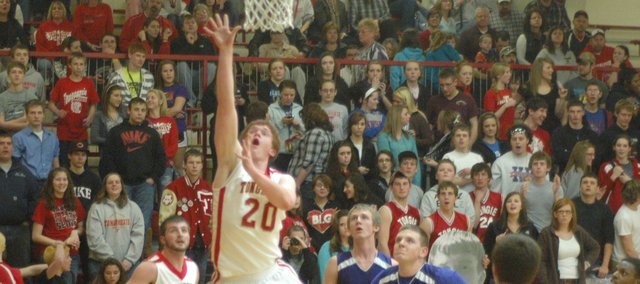 Photo Gallery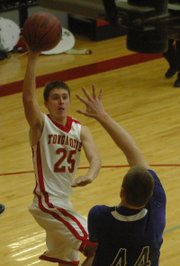 Tonganoxie basketball vs. Piper
The THS basketball teams welcomed Piper to town Tuesday for senior night. The girls held on for a 37-29 win, while the boys cruised to a 65-49 victory.
Before Tonganoxie's game against Piper, Dane Erickson had no idea he was nearing a milestone.
Entering Tuesday's action, the senior was just seven points shy of 1,000 for his career. Whether he knew or not, he wasted little time reaching that mark.
Erickson scored the team's first eight points and 27 total in a 65-49 win over the Pirates on senior night.
"In Kansas high school basketball, 1,000 points is a huge number," coach Shawn Phillips said. "(Erickson) really did it in three years. He only had two points his freshman year."
The Chieftains (9-10) struggled to gain control of the game early on and led by just five at the break. However, they started to pick up steam in the third quarter, thanks in large part to a 9-2 scoring run.
THS extended its advantage to as many as 13 in the period. Piper answered with a 7-1 burst to get back within single digits, but Phillips' squad opened the fourth with five straight points to take control for good.
Calvin Johnson, who torched the Chieftains for 26 points on Feb. 3, was the only Pirate to reach double figures in Tuesday's rematch. He scored 15 points, but shot just 3-of-11 from the field.
As a team, Piper shot 41 percent. The Pirates struggled even more from beyond the 3-point arc, where they shot 27.7 percent.
"We won going away tonight just because we played better defense to start out the second half," Phillips said. "This time, we put Ben Williams on Johnson and Ben did great job of defending him."
Late in the fourth quarter, Phillips put his five seniors — Erickson, Williams, Colby Yates, Dylan Jacobs and Brady Waldeier — on the floor and had them each individually named.
Both teams came out swinging in the first half, combining for 32 points in the first quarter alone. Erickson scored the first four THS buckets — his fourth putting him at 1,001 career points midway through the opening period.
"During the break at the quarter, Coach told me I'd hit 1,000 points on my last shot. I had no idea," Erickson said. "It means a lot to me, but I couldn't have done any of it without my teammates' help. I didn't do it alone."
The back-and-forth affair continued in the second quarter and THS took a 32-27 lead into the locker room at halftime.
With the win, the Chieftains guaranteed the fourth seed in the Bonner Springs sub-state bracket. They'll host fifth-seeded Jeff West in Tuesday's quarterfinal. Action will begin after the conclusion of the girls game, which is set for 6 p.m.
"It's always good to have another home game — especially in sub-state because that's when the crowd is the craziest," Erickson said. "It's going to give us some more momentum going into, hopefully, the second-round game."
Score by quarters
Piper 14 13 12 10 — 49
Tonganoxie 18 14 14 19 — 65
Individual scoring
PIPER — Calvin Johnson 3-11 7-8 15, Luke Long 3-13 2-2 9, Brett Moore 2-2 2-2 6, Colton Beebe 3-4 0-0 6, Collin Cook 2-3 0-0 5, Darius Drew 2-4 0-1 5, Tyler Owens 1-2 0-0 2, Zach Smith 0-0 1-2 1.
TONGANOXIE — Dane Erickson 12-13 3-3 27, Eric McPherson 3-7 2-2 8, Colby Yates 2-5 2-4 7, John Lean 2-5 0-0 7, Tyler Ford 1-1 4-5 6, Dylan Jacobs 2-7 1-3 6, Josh Ghale 2-2 0-0 4, Brady Waldeier 0-1 0-0 0.