THS

boys down Jeff West to advance to sub-state semis
Chieftains will face Hayden at 6 p.m. Friday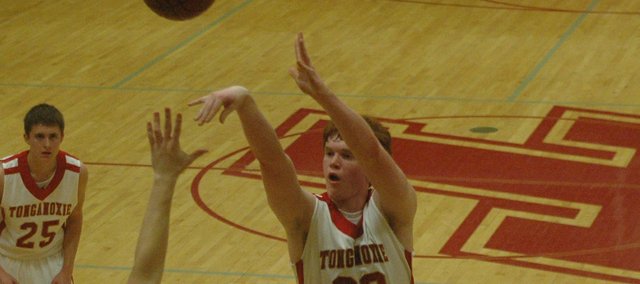 Photo Gallery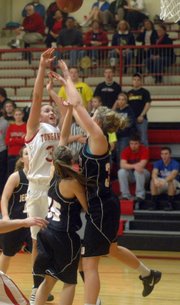 Tonganoxie basketball vs. Jeff West
The Tonganoxie High basketball teams advanced to the sub-state semifinals Tuesday by defeating Jeff West at home. The girls cruised to a 53-36 win and the boys picked up a 60-48 victory.
Following Tonganoxie's sub-state quarterfinal win Tuesday against Jeff West, players and coaches agreed on one thing: the game wasn't pretty. At this time of year, though, pretty doesn't matter.
Senior Dane Erickson scored 24 points and pulled down 12 rebounds and the Chieftains eliminated the Tigers from sub-state competition with a 60-48 victory.
"The big thing is you've just got to advance to the next round," coach Shawn Phillips said. "I don't think we played a real clean game overall, but we'll take a win."
THS (11-10) utilized its post depth from the opening tip and jumped out to an 11-6 lead at the end of the first quarter. The Chieftains took advantage of poor shooting by Jeff West (7-14), which shot less than 30 percent in the first half, and extended its advantage to 25-12 at halftime.
Things remained in the home team's favor after the break, as the Chieftains pushed their lead to as many as 17 points late in the third quarter.
Phillips' squad led 40-26 entering the final period, but the Tigers weren't quite ready to throw in the towel. Behind the 3-point shooting of Cory Brown and Zach Baker, who each scored 14 points, they gradually chipped away at the deficit and eventually got within eight.
The rally was short-lived, however, as Erickson and fellow senior Dylan Jacobs killed the rally. Jacobs scored 15 points, including three treys.
"One of our goals was to try to dominate in the paint," Phillips said. "Between Dane and McPherson, we wanted to utilize our size a little bit. Dylan made a lot of good decisions today, so I think our bigs were definitely a key role in our success."
Sophomore Eric McPherson also did some damage in the paint, scoring nine points.
A pair of Erickson free throws made it 50-40 with 3:34 remaining and the Chieftains led by double digits the rest of the way. THS spent plenty of time at the charity stripe in the second half, as Jeff West picked up its seventh foul less than five minutes into the third quarter.
"As the foul totals indicated, their posts were in foul trouble the whole night," Erickson said. "We were able to balance ours out a lot easier. I feel like all our posts did a great job tonight of trying to get the ball in the hole."
The win guarantees THS a spot in Friday's semifinal against top-seeded Topeka Hayden. The Wildcats advanced Tuesday with a 65-46 win over Piper. Friday's tipoff is set for 6 p.m. at Bonner Springs.
"Hayden is a really good team," Phillips said. "They're capable of winning the whole thing. We're excited for the opportunity. We're going to go play and see what happens."
Score by quarter
Jeff West 6 6 14 22 — 48
Tonganoxie 11 14 15 20 — 60
Individual scoring
JEFF WEST — Cory Brown 4-15 4-6 14, Zach Baker 5-13 0-2 14, Dalton Dean 3-13 3-4 9, Avery Farrant 1-1 2-2 4, Alex Miller 1-3 0-2 2, Bret Ricklefs 1-6 0-0 2, Kegan Kennedy 0-0 2-2 2, Sean McMahon 0-0 1-2 1, Jordan Korb 0-1 0-0 0, Wyatt Miller 0-1 0-0 0, Brent Roberts 0-1 0-0 0.
TONGANOXIE — Dane Erickson 9-11 6-9 24, Dylan Jacobs 6-11 0-2 15, Eric McPherson 4-6 1-2 9, Tyler Ford 0-1 5-6 5, Josh Ghale 1-2 0-0 2, Colby Yates 1-4 0-2 2, John Lean 0-3 2-2 2, Brady Waldeier 0-0 1-2 1.