Tonganoxie girls overpowered in loss to Bonner Springs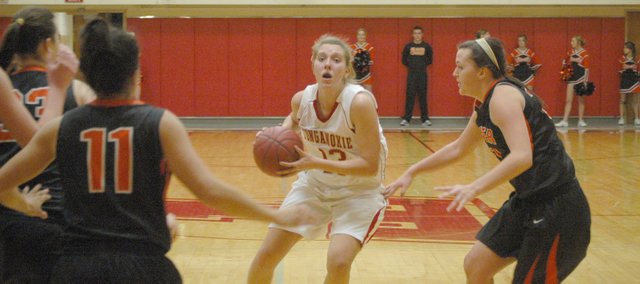 This isn't exactly the start to 2012 Tonganoxie girls coach Randy Kraft had in mind.
Junior Jenny Whitledge scored a team-high 14 points, but the Chieftains (3-2) saw their three-game win streak come to an end with a 48-32 loss to Bonner Springs on Tuesday.
"We played with no effort tonight. No energy," Kraft said. "We were standing around, not working hard and not moving the ball. We were thinking they were going to give us something."
Tonganoxie trailed by just two midway through the first quarter, but the Braves started to find their groove on offense. Kraft's group had no answer, which allowed Bonner Springs to take a 16-7 lead at the end of the opening period.
The Chieftains tightened up on defense, allowing just four points in the second quarter. The offensive struggles continued, though, as they scored just three of their own. Shots continued to clank off the rim for the rest of the half and Tonganoxie went into the locker room down 20-10.
Chieftain forwards Tavia Brown and Emma Stilgenbauer, who averaged better than 22 points in Tonganoxie's first four games, were kept in check for the duration of the first half. Bonner Springs also dominated the glass, out-rebounding the Chieftains 25-18 before intermission.
The Braves' superiority carried over to the second half, as they finished the night with a 48-30 rebounding advantage.
"That was one of the big keys we talked with the kids about," Kraft said. "We're a better rebounding team than that. You don't just stand in front of somebody and get muscled around. You've got to box out harder, and that's what we found out."
The Braves extended their lead to 18 at the end of the third quarter, but the Chieftains made things interesting in the final period. They took advantage of foul trouble and went on a 12-3 run to get within nine with more than three minutes remaining. It was the first time Tonganoxie was within single digits since midway through the first half.
But, in a game it dominated on the stat sheet, Bonner Springs wouldn't be denied. The Braves answered with a 6-0 run of their own to silence the comeback attempt.
"We had to do some things we're not accustomed to doing, so we hit a rut right there," Bonner Springs coach Clay Oakes said. "That's when they were throwing the defensive pressure at us, but the girls stepped up and did a good job of handling it down the stretch."
Brave junior Anna Deegan led all scorers with 15 points.
Tonganoxie will try to get back into the win column when it travels to Mill Valley on Friday. According to Kraft, it will require a lot of hard work for the Chieftains to avoid suffering their third loss.
"It's going to take them deciding they want to do it, because they're quite capable," he said. "It's just a matter of whether they're going to put out the effort to do it or if they're going to be satisfied with that kind of ball. I'm hoping they're not satisfied."
Score by quarters
Bonner Springs 16 4 14 14 — 48
Tonganoxie 7 3 6 16 — 32
Individual scoring
BONNER SPRINGS — Anna Deegan 6-12 3-6 15, Erica Wilson 4-9 0-0 8, Cassady Holloway 3-5 0-1 7, Yessenia Hernandez 2-8 2-2 6, Emily Wilson 3-7 0-0 6, Haley Hoffine 1-6 2-4 4, Eric Marx 1-1 0-0 2.
TONGANOXIE — Jenny Whitledge 4-10 6-7 14, Tavia Brown 3-7 3-4 9, Emma Stilgenbauer 1-5 2-4 4, Amanda Holroyd 1-5 0-0 3, Madee Walker 1-4 0-0 2, Haley Smith 0-4 0-0 0, Hannah Kemp 0-6 0-2 0.