Chieftain girls hang tough, but fall to Silver Lake in finals
Photo Gallery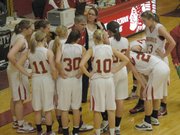 Tonganoxie girls vs. Silver Lake
The Chieftains girls reached the finals of the Tonganoxie Invitational, but fell short against Silver Lake, 60-52.
Following the conclusion of the Tonganoxie Invitational, Silver Lake's Rebecca Holder was named the tournament's Most Valuable Player. In Saturday's championship game against Chieftains, she showed why.
Tonganoxie couldn't find a way to contain Holder, who scored 24 points and helped the Eagles to a 60-52 victory.
"She killed us tonight," coach Randy Kraft said of Holder. "I knew they could shoot threes, and she played well. It was just too much for us.
"I was really proud of the kids for how hard they battled and fought. (Silver Lake) is a really good team. They don't beat themselves. We had a few plays where we beat ourselves and got in a hole."
It looked as though the game would unfold into a low-scoring affair, as each team managed just six points in the first five minutes. However, Silver Lake started to catch fire and closed out the period on a 10-4 run. The Chieftains (7-4) started to find an offensive groove in the second quarter, but didn't do much to cut into the deficit. The teams traded baskets throughout the period and the Eagles took a 33-26 lead into the locker room.
Junior Jenny Whitledge was the Chieftains' lone offensive spark before halftime, scoring 11 of the team's 23 points. She finished the game with a team-high 21 points, including a 9-of-10 effort from the free throw line, and 15 rebounds.
"She was huge," Kraft said. "She was on the boards and obviously, she's a scorer for us. When she plays with that much enthusiasm, she's an impact player."
Tonganoxie hung tough in the second half, but wasn't able to mount a comeback. Back-to-back 3-pointers by junior Hannah Kemp made it 43-36 with 2:45 left in the third quarter, but that's as close as the Chieftains got. Silver Lake opened the fourth quarter on a 10-3 run and never looked back.
Silver Lake's pressure defense gave Kraft's squad fits from the get-go, as the Eagles forced 15 turnovers. Forwards Emma Stilgenbauer and Tavia Brown, normally a key component of Tonganoxie's offense, combined for just 15 points.
"They kept pressure on our guards a lot, which made our timing off," Kraft said. "Then we missed some shots around the rim that we normally don't. I think that hurt us a little bit."
The Chieftains will try to get back in the win column when they play host to Atchison — a team they beat by a 72-36 margin in the first round of the tournament — at 6 p.m. on Friday.
Until then, though, Kraft said they'll take a much-needed break.
"Right now, we rest. We're pretty tired after this week. We'll start back up next week and gear up for Atchison."
After the game, Whitledge, Kemp and Brown were named to the All-Tournament Team. A complete list can be found below.
Score by quarters
Silver Lake 16 17 13 14 — 60
Tonganoxie 10 16 10 16 — 52
Individual scoring
SILVER LAKE — Rebecca Holder 9-15 3-4 24, MacKenzie Freeman 4-9 0-1 11, Perry Krogman 5-10 0-2 10, Jamie Pfannenstiel 1-4 5-6 7, Kayla Thayer 2-8 1-4 6, Ashlyn Lane 0-3 2-2 2, Quinn Baker 0-1 0-0 0.
TONGANOXIE — Jenny Whitledge 6-13 9-10 21, Hannah Kemp 4-6 0-0 11, Tavia Brown 4-7 1-4 9, Emma Stilgenbauer 2-4 2-6 6, Haley Smith 1-5 0-0 3, Madee Walker 1-4 0-0 2, Katelyn Waldeier 0-2 0-0 0, Amanda Holroyd 0-3 0-0 0.
All-Tournament Team
Emily Eldridge — Blue Valley Southwest
Jenny Whitledge — Tonganoxie
Sophia Lehmann — Eudora
MacKenzie Freeman — Silver Lake
Megan Bonar — De Soto
Shelbi Trout — Chanute
Jamie Pfannenstiel — Silver Lake
Hannah Kemp — Tonganoxie
Paige Williams — De Soto
Tavia Brown — Tonganoxie
Kayla Thayer — Silver Lake (Most Inspirational Player)
Rebecca Holder — Silver Lake (Most Valuable Player)