Foul trouble dooms
THS

boys in loss to Holton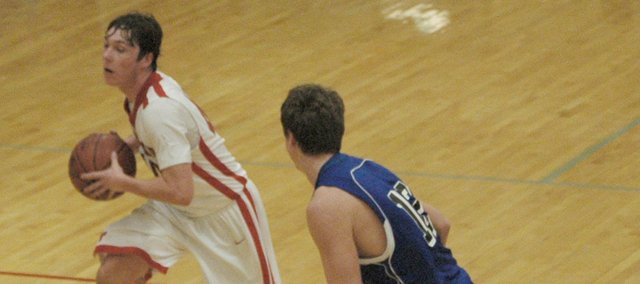 Photo Gallery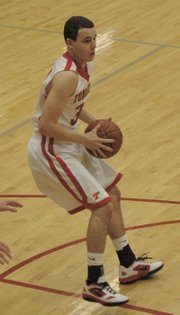 Tonganoxie boys vs. Holton
Tonganoxie struggled with foul trouble from the get-go and dropped a 61-52 decision to Holton on Saturday.
Even with its top two scoring threats hampered by foul trouble all night, Tonganoxie managed to keep things close in Saturday's fifth place game against Holton. However, when it was all said and done, the challenge proved too great.
Senior Dylan Jacobs and junior John Lean each scored 16 points, but the Chieftains couldn't get over the hump in a 61-52 loss to the Wildcats at the Tonganoxie Invitational.
"We shot it horribly throughout the course of the game," coach Shawn Phillips said. "When you try to dance around fouls and you're not making shots, it makes for a tough night."
The Cheiftains (5-6) trailed by 10 at halftime, but stayed within striking distance throughout the final two quarters. They got within three with a 6-0 run late in the third, but never managed to pull even.
Holton gradually pulled away in the final period, using several late free throws to preserve the victory.
Jacobs, Tonganoxie's top threat from beyond the arc, kept things interesting down the stretch with three 3-pointers in the fourth quarter.
"If he didn't knock down a few of them, it really might have got out of hand," Phillips said of Jacobs. "We're fully in confident in him shooting the three."
Senior Dane Erickson, Tonganoxie's leading scorer this season, was a non-factor for most of the second half. He picked up his fourth foul in the opening minutes of the third quarter and spent the rest of the period on the bench. He finished with 10 points, but was limited to just six attempts from the field.
Despite tying for the team lead with 16, Lean also struggled with foul trouble. He picked up his fifth midway through the fourth quarter.
"This is the first game we've had where Erickson has been in pretty big foul trouble early on, and Lean also," Phillips said. "Those two guys have been our most consistent offensive threats."
Neither team could get the ball through the rim early on, as Tonganoxie led just 7-4 after one quarter. The Chieftains continued to struggle in the second, but the Wildcats started to find a rhythm. Holton scored 22 in the period and took a 26-16 lead into the locker room.
Tonganoxie will try to bounce back when it welcomes Atchison to town on Friday. The Chieftains faced the Redmen in Thursday's consolation game and cruised to a 75-41 victory.
"We'll show back up to practice and keep working on the things that we're not doing too well," Phillips said. "Hopefully we can start a winning streak. We've kind of been hit or miss, but hopefully we can get that started next week."
Friday's action will begin immediately following the conclusion of the girls game, which is set for 6 p.m.
Following the conclusion of the final tournament game, Erickson was named to the All-Tournament Team. A complete list can be found below.
Score by quarters
Holton 4 22 14 21 — 61
Tonganoxie 7 9 17 19 — 52
Individual scoring
HOLTON — Cameron Karn 4-8 6-8 14, Trent Tanking 4-11 5-6 13, Ty Burdiek 4-12 5-7 13, Jacob Tanking 2-3 3-4 8, MarQuis Baker 3-8 0-0 6, Jaxon Wright 1-4 0-2 3, Conner Hampton 1-2 0-0 3, Jacob Yingst 0-2 1-2 1.
TONGANOXIE — Dylan Jacobs 5-12 2-3 16, John Lean 4-12 7-9 16, Dane Erickson 3-7 4-7 10, Colby Yates 1-4 1-2 4, Eric McPherson 1-3 1-2 3, Ben Williams 1-1 0-3 2, Tyler Ford 0-3 1-3 1, Josh Ghale 0-1 0-0 0, Brennan Williams 0-1 0-0 0.
All-Tournament Team
Izaiah Grice — Lansing
Andrew Ballock — Eudora
Dane Erickson — Tonganoxie
Ty Burdiek — Holton
Clay Young — Lansing
Jordan Tanking — Holton
Anthony Miller — Blue Valley Southwest
Joey Johnson — De Soto
John Williams — De Soto
Dominique O'Connor — Blue Valley Southwest
Colton Miller — Blue Valley Southwest (Most Inspirational Player)
Mason Wedel — De Soto (Most Valuable Player)