T-Bones closing in on Wichita in Central Division standings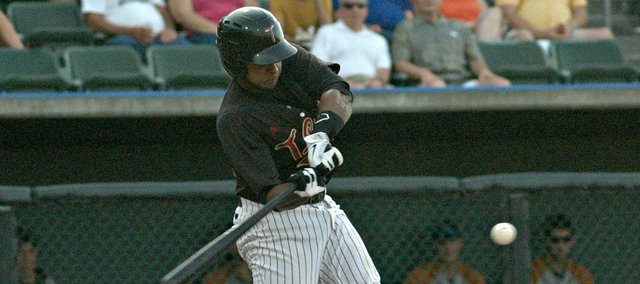 Kansas City, Kan. — Despite struggling to find consistency throughout the month of July, the Kansas City T-Bones continue to narrow the gap in the American Association Central Division.
Kansas City (31-26) trailed the division-leading Wichita Wingnuts by 8.5 games after June 30, but had climbed to within 3.5 games of its intrastate rival after Monday. The T-Bones won their fourth straight game Monday with a 5-4 victory over the Sioux City Explorers at CommunityAmerica Ballpark.
"When our bullpen has been good, I think we've been winning games," manager Kenny Hook said. "I think we realize that we have to make up some ground and now is the time. We can't sit around and wait."
Hook's squad will returned to the field at 7:05 p.m. today for game two of its three-game series against Sioux City.
The T-Bones opened the month with back-to-back wins against the Lincoln Saltdogs, then took three out of four in a home series against the Sioux Falls Pheasants. However, that momentum came to a screeching halt when they were swept in a four-game series at Fargo-Moorhead. The losing streak hit five with a 4-2 loss July 11 at Wichita, but Kansas City's fortunes would be reversed a day later.
After losing the opener, the T-Bones claimed a 6-3 victory on July 12, then won two more when the Wingnuts came to CommunityAmerica Ballpark last Friday and Saturday.
Wichita (34-22) has struggled to find the win column in recent weeks, as it entered Tuesday with a 4-11 mark in July. Kansas City, on the other hand, went 9-6 in its first 15 games of the month.
"It's the second half of the season and getting late," Hook said. "We're going to go for the division, so I think that's changed the mindset since it's within reach. The play and the magnitude of these games are very important."
In addition to making up ground in their own division ranks, the T-Bones have managed to keep pace in the wild card standings. After Monday's win, they were third in the standings — three games behind the Winnipeg Goldeyes and a half game behind the Amarillo Sox.
The T-Bones will wrap up their series against the Explorers on Wednesday. After that, they'll hit the road for four games against the Grand Prairie AirHogs, who entered Tuesday with a league-best 37-19 record.