Chieftain girls get by Hayden to reach sub-state finals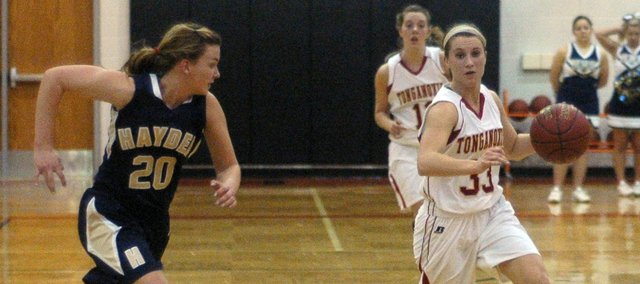 Bonner Springs — Through three quarters, no Tonganoxie lead was safe. However, with time running out and a spot in the sub-state finals on the line, the Chieftains finally put the nail in the coffin.
A 12-0 run in the fourth quarter propelled THS to a 48-38 semifinal win over Topeka-Hayden Thursday in Bonner Springs.
"It feels awesome," junior Hannah Kemp said. "The whole time I've been in high school, we've never made it past the first round (of sub-state). "Now that we're in the championship game and we're that close, it feels great."
The Chieftains (16-6) led by just three at halftime, but gave themselves some breathing room when they opened the third quarter on an 8-2 run. That made it 26-17 with 3:42 left in the period, but the Wildcats (13-8) responded eight six unanswered to get back within three at the start of the fourth.
"Every time we had a little run, they came back and matched it," THS coach Randy Kraft said. "They just weren't going to go away easy."
Hayden's Mary Lawlor forced a 26-26 tie when she drained a 3-pointer with 7:34 remaining, but this time, it was the Chieftains who had an answer. Kemp, who scored 12 points, promptly drove the length of the floor and connected from the top of the arc to give the lead back to the red and white.
The trey sparked a decisive 12-0 run that put the game out of reach.
"When the game gets tight like that, you've just got to keep pushing," Kemp said. "We just needed to relax and play our game like we practiced all week."
The late surge gave THS a 38-26 lead midway through the final period, and Hayden never got closer than nine points the rest of the way.
Kemp was one of two Chieftains to reach double figures. She was joined by fellow junior Jenny Whitledge, who netted a game-high 17. Whitledge just missed a double-double, as she pulled down nine rebounds.
It looked as though the Chieftains would take control early, as they jumped out to a quick 5-0 lead, but Hayden responded with five straight of its own to tie things up midway through the first quarter. Each team managed just two more points in the opening period.
Whitledge provided a spark in the second, knocking down three straight shots — part of a 10-0 run that put THS up 17-7 with 3:35 left until halftime. Once again, though, the Wildcats had a response. They closed out the half on an 8-1 run, including five straight by Shannon Strecker, to get within 18-15 at the break.
Strecker led Hayden with 11 points, including three 3-pointers. She was the only Wildcat to reach double digits. Hayden was without its leading scorer in senior Nicole Federico, who suffered a torn ACL in the Wildcats' win over Bishop Ward in Monday's quarterfinal.
"We had to defend them a little bit harder on the outside," Kraft said. "Without their big post in there, that allowed us to do it."
The Chieftains will play for a state bid at 6 p.m. Saturday when they square off against host school Bonner Springs (21-1). THS went 0-2 against the Braves during the regular season, including a 60-55 loss at BSHS on Feb. 17.
Score by quarter
Hayden 7 8 8 15 — 38
Tonganoxie 7 11 8 22 — 48
Individual scoring
HAYDEN — Shannon Strecker 4-12 0-0 11, Mary Lawlor 3-8 0-0 8, Sarah Pimentel 3-4 1-1 7, Maureen Kennedy 2-4 0-4 4, Bri Heinen 2-7 0-1 4, Julia Stringer 1-2 0-0 2, Bree Schmidt 1-5 0-0 2, Mackenzie Cox 0-3 0-0 0.
TONGANOXIE — Jenny Whitledge 7-13 3-6 17, Hannah Kemp 4-9 1-4 12, Katelyn Waldeier 2-2 1-2 5, Emma Stilgenbauer 1-4 2-2 4, Madee Walker 0-3 4-4 4, Haley Smith 1-1 0-0 3, Tavia Brown 1-2 0-0 2, Amanda Holroyd 0-4 1-3 1.