Breuer becomes new Basehor mayor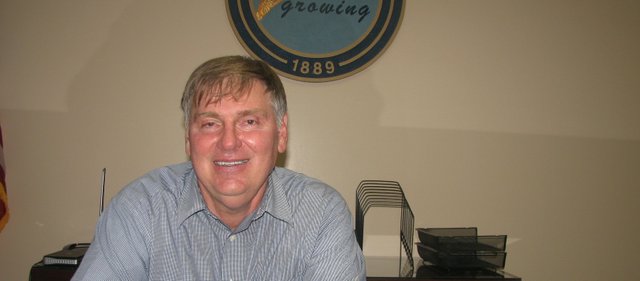 Two more spots available
Two Basehor City Council seats remain to be filled during the council's April 16 meeting, and the city is inviting residents to apply.
Applications are due at noon March 30. Forms are available for download below, or they can be picked up at Basehor City Hall.
Related document
During a Basehor City Council meeting free of the noise and conflict that have characterized its recent gatherings, David Breuer became Basehor's new mayor Monday night.
Breuer, a longtime Basehor resident who has owned the local business K.C. Construction since 1977, had been a City Council member since 2009.
After he was sworn in as the new mayor, Breuer told the standing-room-only audience present that it was time for the city to move on from the turmoil that surrounded its recent recall elections.
"It's certainly been a trying time," Breuer said, "and certainly we need to get down to city business."
Travis Miles, the only other council member who remained after two were recalled and one resigned earlier this month, began the meeting by moving to elect Breuer as the council's new president, meaning he would immediately move into the mayoral seat.
Miles said he believed Breuer should serve in the position because he had served longer on the council, and he cited a history of public-service and leadership positions. Breuer served on the Basehor-Linwood school board from 1980 to 1988, was on a pension board for the Laborer's Local Union 1290 of Kansas City, Kan., and was president of the Basehor Lions Club.
Breuer voted along with Miles to approve the motion.
Breuer's first actions as mayor were to appoint two new council members: Dick Drennon, who oversees buildings and grounds for the Basehor-Linwood school district and also once served on the school board, and Vernon J. Fields, a member of the Basehor Planning Commission. He said the city had received six applications for the spots before its deadline of noon Friday to be considered for appointment Monday.
The council's past several meetings, leading up to and following the city's Feb. 28 recall election, had been marked by conflict and contention among audience members and, occasionally, members of the council. But the crowd Monday was largely quiet, with residents declining to speak even during the meeting's designated public-comment period.
Breuer said after the meeting that he appreciated the evening's calmer tenor.
"Our city is going to move forward," he said.
With just more than a year left of the term Breuer will take over from recalled former Mayor Terry Hill, he said there quite a bit to get done.
"We've got a lot of issues that need to be addressed," Breuer said. "A lot of tough issues."
Both Drennon and Fields were appointed to fill council seats whose terms end in 2015, leaving two seats with terms ending in 2013 remaining to fill. Breuer plans to appoint members to fill those spots at the council's April 16 meeting.
Among the tasks facing the new council will be to find a new city administrator to replace Mark Loughry, whose firing in September figured prominently in the recalls of Hill and former council members Dennis Mertz and Iris Dysart.
Breuer said he hopes the new group concentrates on equipping the city's staff to move the community forward.
"I want to get the board to concentrating on developing sound and good policy," he said.
For more on the two new Basehor City Council members, check basehorinfo.com later this week.