Stockman finishes second at national youth meet
THS

senior brings home silver in shot put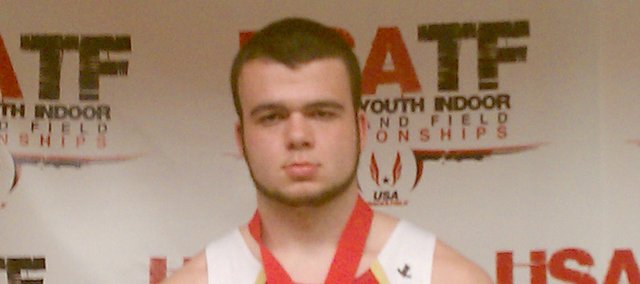 Well before Tonganoxie High began track and field practice, senior Tyler Stockman was already in the throwers circle.
Stockman's preparation for 2012 began long ago, and it recently paid off in the national spotlight. He traveled March 10 to Normal, Ill. for the USATF Youth Indoor Championships at Illinois State's Horton Fieldhouse. He didn't disappoint, finishing second in his division with a career-high throw of 50-08.75.
"It was my season best and my all-time best," Stockman said of the throw. "I had gone in planning to hit a mark of 15.25 meters, which is right at 50 feet. I hit 15.46, so really it was a good day for me."
To reach the national meet, Stockman first had to qualify Feb. 19 at the Midwest Zone Championships in Hillside, Ill. He needed a top-four finish to earn a spot in the finals and sealed the deal by finishing second.
Following the regional meet, he spent each Tuesday and Thursday working with trainer Jim Riedesel to prepare for nationals. In addition to basic fundamentals, Stockman said he and Riedesel spend time focusing on the mental aspect of throwing as well.
All the hard work paid off when he shattered his own personal goal on his second throw at nationals.
Stockman, who also throws discus, now has his sights set on more improvement during his final season as a Chieftain. With the school shot put record of 51-08 within his reach, his new goal is to add his name to the books in a big way.
"I'd love to ht 55-60 feet this season," he said. "Where I'm at with my progress, I still have a lot to learn, so there's nowhere to go but up. I'm beyond pumped to get going. I've been dreaming every day about throwing. It's not work if you love it, and I love it."