THS

golfers win Sunflower Classic
Chieftains claim team title for 3rd straight year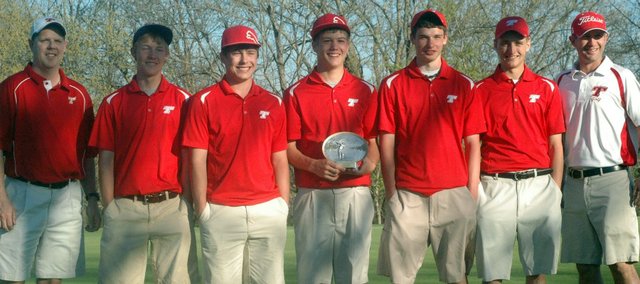 Bonner Springs — For the third consecutive year, the Sunflower Classic trophy will return to the Tonganoxie High trophy case.
The THS golf team opened its 2012 season in winning fashion Saturday, capturing the team title at the 13th annual tournament at Bonner Springs' Sunflower Hills Golf Course. The Chieftains recorded a team score of 323, placing them 19 strokes ahead of second-place finisher St. James Academy.
"It was a good day weather-wise and good scores," coach Jared Jackson said. "A 323 for the first tournament of the the year is a good score. I'm pretty proud of the boys."
As he's done so many times throughout his career, senior and Missouri-St. Louis signee Colby Yates led the charge for the red and white. Yates finished with a tournament-low 75 to claim the individual title.
Yates wasn't the only Chieftain to finish below 80, as fellow senior Kody Campbell shot a career-low 79. He sat at 42 after the front nine, but shot a 37 on the back half to claim third place in the individual ranks.
Campbell's previous best was the 85 he shot at last year's state meet.
"I kind of blew up on a couple of the Par-3s," Campbell said. "I double (bogeyed) both of them on the front nine, so I kind of had to redeem myself and come back. I parred the next two after that, then one the back nine, I had steady pars all the way through."
Senior Tanner Hale finished fifth individually with an 81, while juniors Aaron Williams and Tyler Hall rounded out the team scoring with marks of 88 and 95, respectively.
Despite competing without sophomore Drew Sandburg, a 2011 state participant, the Chieftains had the more golfers finish in the individual top-15 than any other team.
"To compete at a state level, you have to have a team," Jackson said. "We're looking at six golfers. If you have six golfers, then you have a chance to compete every day."
THS will have more than a week off before its next competition. It will return to the links on April 4 for the Mill Valley Invite at Olathe's Prairie Highland Golf Course. Action is set to begin at 1 p.m.
According to Campbell, it's important for the Chieftains to put Saturday's win behind them and focus on continued success as the season unfolds.
"We've just got to keep it going," he said. "This showed that we can play, so we've just got to come out and do good at the next tournament. We've got to play good throughout the whole year to qualify for state."
Overall team scores
Tonganoxie — 323

St. James — 342

Mill Valley — 353

De Soto — 364

Bonner Springs — 378

Turner — 381

Lansing — 422

Bishop Ward — 434
THS individual scores
Colby Yates — 75
Kody Campbell — 79
Tanner Hale — 81
Aaron Williams — 88
Tyler Hall — 95
Top 15 individual scores
Colby Yates, TON, 75; 2. Tristan Abts, BON, 78; 3. Kody Campbell, TON, 79; 4. Ben Maskus, STJ, 80; 5. Tanner Hale, TON, 81; 6. Mitchell Shirk, TUR, 83; 7. Marc McClain, BON, 84; 8. Austin Williams, DES, 85; 9. Logan Fortney, STJ, 85; 10. Cole Stelzer, STJ, 86; 11. Wyatt Brecunier, MIL, 87; 12. Aaron Williams, TON, 88; 13. Nick Waite, DES, 88; 14. Jack Casburn, MIL, 88; 15. Quinn Jones, MIL, 89.