Chieftain girls blanked in loss to Spring Hill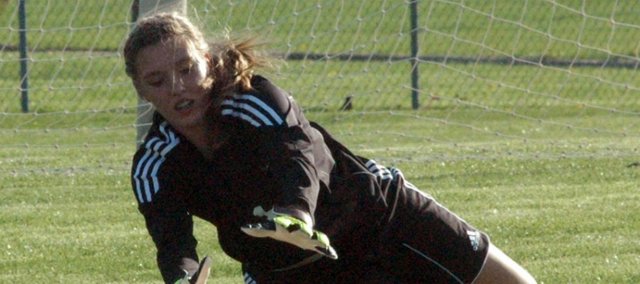 Photo Gallery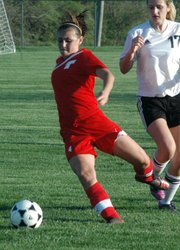 THS girls soccer at Spring Hill
The Tonganoxie High girls soccer team dropped a 4-0 decision Thursday at Spring Hill.
Spring Hill — Coach Justin Seever saw plenty of improvement from the Tonganoxie High girls, but the team's offensive struggles led to another tally in the loss column Thursday at Spring Hill.
The Chieftains (0-2) are still looking for their first goal of 2012 following their 4-0 loss to the Broncos.
"We changed our formation up," Seever said. "We switched to the 4-4-2, which we ran all last year. We walked through it a lot (at practice). Our two focuses are shoring up our defense and learning how to build an attack."
THS looked to grab an early lead when senior Alyssa Miller broke free with the ball in the game's opening minutes, but her shot attempt sailed wide to the right. Spring Hill grabbed the momentum a few minutes later, as Alix Brown got open in the Chieftain backfield and scored with 28:39 left until halftime.
Miller had an opportunity to even the score later in the half, but once again missed the mark.
The Broncos struck again on a penalty kick by Sydney Cluck — her first of two goals — with 20:08 left in the half. The THS defense stiffened for the remainder of the period, keeping the score at 2-0 at the break.
Cluck found the net again less than seven minutes into the second half, and Sydney Shoemaker capped off Spring Hill's scoring with 13:29 remaining.
Despite the final score, Seever said he saw plenty of improvement by sophomore goalkeeper Emma Stilgenbauer. Playing in just her second game at the position, Stilgenbauer recorded 12 saves.
"She showed today that she's capable," Seever said. "I don't think she gave up a bad goal today. I feel like her confidence is getting better and better."
Stilgenbauer agreed her confidence has improved since the beginning of the season, adding that she's used each goal she's given up as a learning experience.
"You're going to have rough times where you don't know what you're supposed to be doing, but you learn from your mistakes," she said. "You learn how to read people and what they're going to do."
Seever's squad may still be without its first goal this season, but players and coaches alike believe there's no reason to panic. The team went through a similar scoring drought early in 2011 before finding an offensive rhythm.
The Chieftains won't have to wait long for their next chance to break through, as they'll travel Friday to Lansing for their third game in five days.
"Monday was a big eye-opener that we're not quite as fit as we should be, so having three games in the first week definitely lets us know where we stand," senior Lindsey Truesdell said. "(Being scoreless) is obviously a bit of a downer, but I think we're hopefully going to rally tomorrow. It's going to put a fire in our bellies."
Friday's action will begin immediately following the junior varsity game, which is set for 4:30 p.m.