Baseball seniors eye postseason run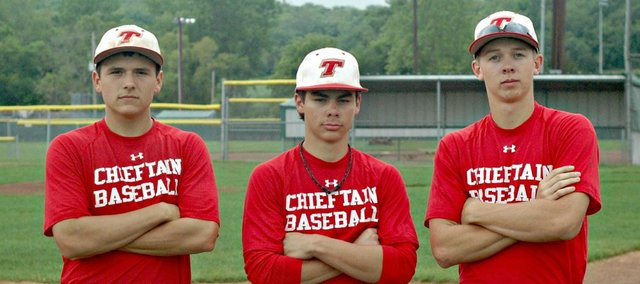 In a baseball season defined by growth and inexperience, a trio of Chieftain seniors have been hard at work in helping their younger teammates prepare for more success down the road.
The journey has nearly reached its end for Ben Williams, Tyler Freeman and Austin Harkrader, who will play their last home games Thursday against Bonner Springs. But, despite spending most of their final year assisting with the typical growing pains of sports, each will leave the program with plenty of fond memories.
"Playing with these guys, they're my best friends," Williams said of his fellow seniors. "They're just great players and have been great to be around."
Williams has been an anchor of the Chieftain infield in 2012. He's started all 18 games — primarily at shortstop or second base — and has posted a .328 batting average. He's scored eight times and driven in seven runs this season, including a game-winning RBI single on April 9 against Turner.
While Williams has manned the infield, Freeman and Harkrader have both seen time in the outfield and on the mound. Freeman enters Thursday with a .300 average, three RBI and six runs. Harkrader has the highest average of the three seniors, as he's hit .357 with two RBI. His 12 runs scored are the second-highest total on the team.
As pitchers, Freeman and Harkrader are a combined 2-9 this season, but they rank first and second on the team in strikeouts with 34 and 16, respectively. Freeman threw a complete game shutout on April 16 at Baldwin, while Harkrader picked up his first victory of the year last Saturday against Holton in the Butch Foster Memorial Baseball Classic.
While he admitted success has been somewhat hard to come by in 2012, Harkrader assured that he and his fellow seniors can take pride in knowing they instilled their knowledge of the game into their younger teammates.
"You start out young, not really knowing anything about the program, and you hopefully grab as much knowledge from the older guys as you can," he said. "When you get to be a senior, you try to deliver that knowledge back to the younger guys. That's how you make the program better."
Freeman echoed those thoughts and also expressed his gratitude for coach Mitch Loomis, who took over the program prior to the 2011 season.
"I'm not too mad that we didn't do too well this year because we helped Coach (Loomis) develop these younger guys," Freeman said. "Loomis is probably my favorite baseball coach I ever had."
The Chieftains may have just two regular season games left, but all three seniors admitted a timely postseason run could give them a few more games before they hang up their uniforms for good. They came oh so close to the state tournament earlier in their careers — particularly as freshmen in 2009 — and according to Williams, making some postseason noise in their final go-around would be an exclamation point on an already memorable career.
"I'd love to go to state," he said. "My freshman year, we were one pitch away from going to state, and that's been our goal every year, to go to the regional championship game, then play seven innings to get to state."