McLouth High softball 15-1 after sweep of Riverside
Bulldogs have won 11 straight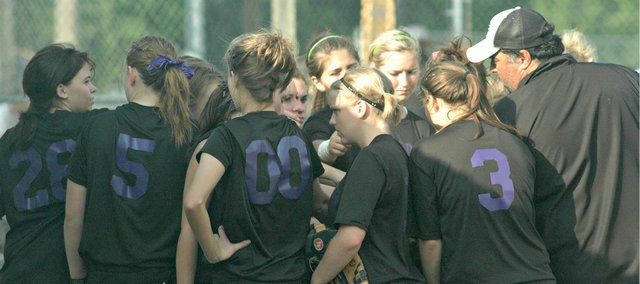 Photo Gallery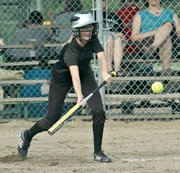 McLouth High softball vs. Riverside
The Bulldog softball team picked up back-to-back wins Wednesday against Riverside. MHS won by scores of 2-1 and 9-0.
As far as doubleheaders go, McLouth High's meeting with Riverside was a tale of two games. When it was all said and done, though, both ends of the twin bill resulted in victories.
The Bulldogs (15-1) extended their win streak to 11 games Wednesday with 2-1 and 9-0 wins over the Cyclones. It was the team's fifth straight sweep — a streak that began with back-to-back wins April 10 at Atchison.
Senior Kendra Leach started the first game in the pitcher's circle, and a pair of defensive mishaps allowed RHS to score in the first inning. Leach struck out the leadoff hitter, but the ball got by sophomore catcher Amber McCowan, allowing the hitter to reach first base safely. She came around to score when junior second baseman Alex Adams lost her footing while trying to field ground ball.
MHS answered with a run of its own to tie things up in the bottom of the first. Leach reached on an error and later scored on a straight steal of home.
Neither team scored again until the Bulldogs plated another run in the bottom of the sixth. Senior Morgan Drinnon bunted her way on base and scored on a suicide squeeze executed by McCowan. That's all the offense MHS needed, as Leach retired the side in order in the seventh.
Leach allowed just four hits and struck out 10 Cyclone hitters in seven innings. She is now 8-1 on the season.
"I'm having more confidence in myself, so I'm starting to to well and hit my spots," Leach said.
The Bulldogs managed just three bunt singles in the opener — two by senior Emily Welsh and one by junior Marissa Raya.
It looked as though the nightcap would be another low-scoring affair, as neither team managed a run through the first two innings. However, MHS took advantage of two Cyclone errors to plate a pair in the third. The Bulldogs scored at least twice in each of the final four frames.
Despite scoring nine runs, coach Ballard Patterson's squad struggled again at the plate. The team managed just six hits.
"The defense is playing well, but I'm a little disappointed because I'm paid to be a hitting instructor," Patterson said. "We were swinging under things, hitting a lot of infield pop-ups. We've got to back to the drawing board and get on top of that."
As it turns out, one run was all freshman pitcher Angela Dailey needed to work with. Dailey, who is now 7-0, extended her streak of innings without an earned run to 45, going the distance and striking out two. She allowed four hits, bringing her season total to just 19.
Leach complemented her pitching gem with a solid offensive performance in the second game. The UMKC signee went 3-for-3 with a pair of triples and missed a home run by mere feet in the sixth.
"I truly believe that Kendra is the best player in 3A and maybe the best player in any division," Patterson said. "She's as good as I've ever coached. I've had high school All-Americans here, and there's a good chance that she could make a run at something like that this year."
Welsh was the only other Bulldog with a multi-hit game. She went 2-for-3 with another pair of bunt singles. The Bulldogs successfully executed another suicide squeeze in the second game, as Raya scored on a ball laid down by senior Kelsey Campbell.
MHS will have very little time to rest before its next opponent, as it will host Jeff West on senior night at 4:30 p.m. Thursday.
"Hopefully, we can come out (Thursday) night off this momentum and play better in our first game against Jeff West," Patterson said. "That's a very good team. If we're not top-flight against them, they'll beat us bad."
Game 1
RHS 100 000 0 — 1
MHS 100 001 X — 2
Leading hitters: Emily Welsh 2-2; Marissa Raya 1-2; Amber McCowan RBI.
Game 2
RHS 000 000 0 — 0
MHS 002 232 X — 9
Leading hitters: Kendra Leach 3-3, 2 3B; Emily Welsh 2-3, RBI; Morgan Drinnon 1-4, 2B, RBI; Alex Adams 1-2; Kelsey Campbell RBI.
It's going to take a lot of hard at practice and us keeping our heads in the game.