THS

soccer captures regional title with win over Piper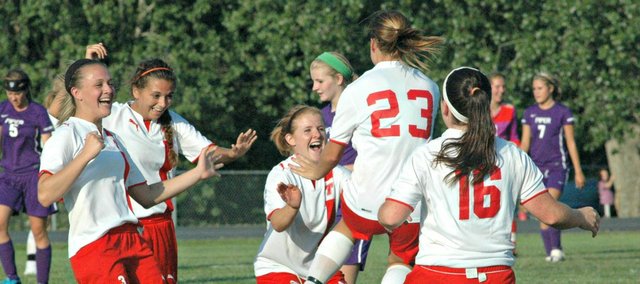 Photo Gallery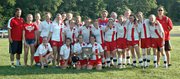 THS girls soccer vs. Piper
The Chieftain soccer team defeated Piper Friday to claim its first regional title in school history.
The Tonganoxie High 2011-12 school year officially came to an end Friday afternoon. Later that evening, the girls soccer team made sure the same couldn't be said for its season.
The Chieftains (9-8-1) won their first-ever regional championship with a 4-1 victory over Piper at home. With the win, THS advances to next week's state quarterfinals.
"I just never expected to come out of this season as regional champions," senior Lindsey Truesdell said. "It's kind of like a dream."
Both teams went 120 minutes without a goal in their first meeting — a scoreless tie April 9 at PHS — but the Chieftains barely needed one minute to find the net in Friday's rematch. Sophomore Madison Simmons got an opening just 1:08 into the game, and her shot attempt ricocheted off the top post and into the net.
Truesdell added another goal less than eight minutes later to give THS an early 2-0 lead.
"I wasn't expecting to score that fast, but I knew we were going to catch them early," coach Justin Seever said. "It kind of smacked them in the mouth and they didn't know what to do."
Sophomore Emily Soetaert made it 3-0 when she got by Piper goaltender Sara Ferguson and tapped the ball into the net with 16:05 left until halftime.
The Pirates (8-9-1) got a chance to get within two late in the half, but THS sophomore goalkeeper Emma Stilgenbauer blocked a penalty kick by Piper's Megan Woolley to keep PHS scoreless at the break.
"That's huge because 3-0 looks a lot better going into the half than 3-1," Seever said. "That would have given them some life."
Soetaert scored again with 7:58 left in the second half. Woolley spoiled the shutout in the game's final minutes when she got a ball just over Stilgenbauer's hands, but that's as close at the Pirates got.
Including Monday's win, the Chieftains have won seven in a row and nine of their last 12. That stretch began immediately following their first meeting with the Pirates and, according to Truesdell, that may not be a coincidence.
"It's kind of ironic, because I really think the turnaround started with that first Piper game," she said. "We really came out and got after it, and we kind of realized we were capable of. We carried that momentum, and now we're finally a force to be reckoned with."
THS will be back on its home field at 5 p.m. Tuesday for a quarterfinal matchup with De Soto (9-9). The Wildcats handed the Chieftains a 3-0 defeat on April 5. The winner of Tuesday's game will advance to the Class 4A state tournament, set for May 25-26 in Rose Hill.
"We're excited for another crack at (De Soto)," Seever said. "We like our field, so that helps. We had a pretty big crowd (Friday) and I feel like we're going to have an even bigger crowd for the right to go to state."
First half scoring
38:52 — Madison Simmons (Tonganoxie)
31:41 — Lindsey Truesdell (Tonganoxie)
16:05 — Emily Soetaert (Tonganoxie)
Second half scoring
7:58 — Emily Soetaert (Tonganoxie)
5:50 — Megan Woolley (Piper)