Chieftains, Bulldogs compete at state track
Whitledge repeats as high jump champion
Photo Gallery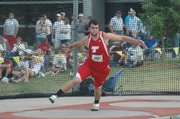 Tonganoxie, McLouth at state track
Several local athletes traveled Friday and Saturday to Wichita State's Cessna Stadium for state track and field action.
Wichita — Regardless of the stage, Tonganoxie High junior Jenny Whitledge just keeps adding to her trophy case.
Whitledge, who has medaled consistently in four track and field events this season, won her second straight Class 4A state title in the high jump Friday at Wichita State's Cessna Stadium. She won the event with a jump of 5 feet, 4 inches — the same height with which she won last year's title.
"There was definitely a lot more pressure because you have to back it up since you got it last year," Whitledge said. "There were a lot of girls this year that were really good, and it kind of made me nervous there towards the end."
THS sophomore Haley Griffin finished second behind Whitledge with a jump of 5-2. The jumpers have finished side-by-side in nearly every meet this season, and according to Whitledge, neither would prefer it any other way.
"Honestly, it's the greatest feeling I've ever had in my entire life," Whitledge said. "(Griffin) makes everything easier for me. She's there to support me and when I'm upset, she's always there for me. I'm glad to have her."
Whitledge and Griffin recorded the Chieftain girls' only 18 points of the weekend. THS finished 11th in the team standings.
Earlier in the day, Whitledge competed alongside her sister, freshman Jackie Whitledge, in the long jump. Jenny took eighth in the event with a distance of 16-7.75, while Jackie finished 16th with a mark of 15-0.75.
Senior Patrick Rachford was the only Chieftain male to compete in the opening day of the meet. He set a personal record in the 3,200-meter run, finishing 12th with a time of 10:19.87.
McLouth High also had three athletes in action Friday. Freshman Summer Cerny, the Bulldogs' only state qualifier on the girls side, took eighth in her heat in the 100-meter hurdles with a time of 17.71 seconds. Senior Hunter Koch followed that up with a seventh-place performance in his heat in the 110-meter hurdles (16.39).
Junior Dakota Cop, the only MHS athlete to qualify in a field event, took 14th in the triple jump with a distance of 41-1.25.
"(Our kids) jumped and ran pretty much their season times, which is pretty good," McLouth coach Gerard Aligo said. "They were disappointed as much as we were that they didn't make finals, but Summer is a freshman with a good future ahead of her and Dakota is a junior who got some good experience."
THS senior Tyler Stockman entered the discus ring when action resumed on Saturday, and the Emporia State signee medaled in his final high school meet. He took fourth with a throw of 154-11. Later in the day, fellow Chieftain senior Dylan Jacobs capped off the list of THS participants with an 11th-place finish in the high jump. He cleared a height of six feet even — four inches higher than his performance at last year's state meet.
Stockman's fourth-place finish accounted for the Chieftain boys' only four points, putting them in a tie for 31st in the team standings.
McLouth junior Marc Walbridge was the Bulldogs' only Saturday competitor. He took seventh in the 1,600-meter run with a time of 4:42.24. His performance was good enough for a team point, which tied MHS for 35th overall.