Chieftains can't contain Berry in loss at Turner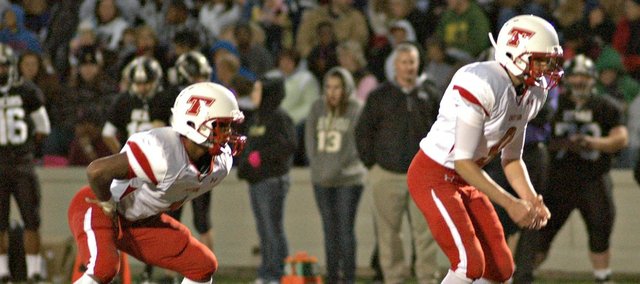 Kansas City, Kan. — After watching film, it was apparent to Al Troyer that Turner quarterback Paul Berry was more than capable of making noise through the air. Troyer's Tonganoxie High squad kept Berry from throwing for big chunks of yards, but the Golden Bears' signal caller still did more than enough damage.
The Chieftains led by six points after one quarter of play, but in the end, they couldn't overcome a four-touchdown effort by Berry in a 32-13 loss Friday at Turner Stadium.
"I'm happy with our kids. They fought hard and they played hard," Troyer said. "We didn't win, but we did some things right. We're coming along. We got them down in long situations. We had stops, but we've just got to finish."
THS (2-4, 2-3 Kaw Valley League) jumped out to a 6-0 lead when Cole Holloway scored on a 22-yard run midway through the first quarter. However, the Golden Bears (4-2, 4-2) reeled off 19 unanswered points in the second quarter to take control.
Berry, who threw for 228 yards and ran for 88 more, answered Holloway's touchdown with a six-yard scoring run in the first minute of the period. He then hooked up with receiver Sirr Green for touchdown passes of 13 and 30 yards, the second of which came on the final play of the half.
Berry had just one incompletion in the first two quarters. When it was all said and done, he was 19-of-23 for 228 yards and two touchdowns. He made the Chieftains pay on the ground as well, rushing for 88 yards and a pair of scores.
"Their quarterback is good," Troyer said of Berry. "The thing that I'm impressed with is they ran the stops and they stayed with it. They didn't try to throw over the top. We shut down the run like we wanted to, but they were hitting those short passes."
The Tonganoxie defense kept the Golden Bears in check for the duration of the third quarter, but the Turner defense came up with a big play of its own early in the fourth. One play after Berry was intercepted by Luke Carey in the Chieftain end zone, Shane Levy fumbled inside the 10. The loose ball rolled back into the end zone, where Turner's Andre McCallup recovered it for a touchdown.
"Without the last play of the half and (the fumble), it's a different ball game," Troyer said.
Tonganoxie got back within two possessions on the ensuing drive when quarterback Tyler Ford found tight end Brett Shelton for a six-yard score with 6:33 remaining. But Berry put the game on ice with a 30-yard touchdown run in the game's final seconds.
Holloway led the THS offense with 118 rushing yards on 26 carries. Ford added 123 yards through the air.
The Chieftains will open Class 4A District 2 play this week when they travel Friday to Perry-Lecompton. PLHS is currently 2-4, including a 36-22 win last week against Royal Valley.
Score by quarter
Tonganoxie 6 0 0 7 — 13
Turner 0 19 0 0 13 — 32
First quarter
TON — Cole Holloway 22 run (kick failed), 5:34
Second quarter
TUR — Paul Berry 6 run (Gabe Moran kick), 11:19
TUR — Sirr Green 13 pass from Berry (kick failed), 5:37
TUR — Green 30 pass from Berry (kick failed), :00
Fourth quarter
TUR — Andre McCallup fumble recovery in end zone (Moran kick), 10:25
TON — Brett Shelton 6 pass from Tyler Ford (Eric Tate kick), 6:33
TUR — Berry 30 run (kick failed), :08
Rushing
TON: Holloway 26-118, Ford 8-23, Levy 5-11; TUR: Berry 17-88, Deandre Fenrick 19-62, David Lawrence 3-1.
Passing
TON: Ford 11-20-0 123, Carl Hecht 0-2-0 0; TUR: Berry 19-23-1 228.
Receiving
TON: Levy 7-66, Shelton 3-48, Tate 1-9; TUR: Green 10-168, McCallup 7-51, Fenrick 1-6, Jeremy Jensen 1-3.