THS

gets defensive in district win vs. Jeff West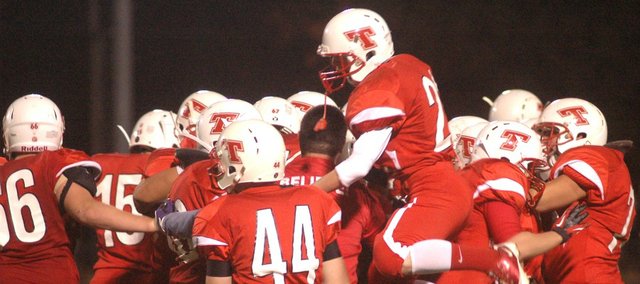 Before Jeff West ever arrived Friday at Beatty Field, Tonganoxie High coach Al Troyer knew his squad would have its hands full with Ian Mullins. Just as expected, the Tiger quarterback gave the Chieftains problems through the air and on the ground, but THS came up big when it mattered most.
The Chieftain defense came up with six sacks, including a key fourth-down stop in the final minute of the game, to preserve a 9-7 win against Jeff West on Friday. With the victory, the Chieftains (3-5) improve to 1-1 in Class 4A District 2 play. The district win is their first since the 2008 season.
"(Mullins) hurt us a little bit with the option, so we adjusted a little bit," Troyer said. "We knew they were going to have to try to hit (receiver Bret Ricklefs) over the top, and our kids did a great job bracketing him. You just can't commend our defense enough. They bent, but they didn't break."
Jeff West (4-4, 1-1) had a chance to take the lead when it got the ball down by two points with 2:51 left in the fourth quarter. The Tigers drove into Chieftain territory and lined up for a 35-yard field goal, but coach Steve Johnson called a timeout and instead decided to try for a first down. THS defensive lineman James Grizzle came up with a fourth-down sack with 59 seconds remaining, and the Chieftains kneeled out the clock.
"We had to get him down," Grizzle said. "We knew he would try to run it and all my teammates just freed me up. Our other defensive end was freeing me up and our linebackers were filling."
It was the third sack of the game for Grizzle, who finished with nine tackles.
THS struck first on a 29-yard field goal by Eric Tate with 7:21 left in the first quarter, then went up two scores on a 17-yard touchdown run by quarterback Tyler Ford late in the second quarter.
Jeff West drove deep into Chieftain territory on the ensuing possession, but was stopped inside the THS 1-yard line on the final play of the half. Mullins fumbled inside the 5 and Ricklefs scooped up the loose ball. He tried to extend the ball over the goal line and seemingly fumbled the out of bounds, but was ruled down less than two feet short as time expired.
"That was huge," Troyer said. "We were either going to get the ball at the 20 because he fumbled it through the end zone or they were going to get it at the 1 with the clock out. Either way works."
The Tigers forced a three-and-out to open the second half. Mullins, who threw for 126 yards and ran for 36 more, then led a 58-yard drive, which Wyatt Miller capped off with a 22-yard touchdown run. Grady Middendorf added the extra point to make it a two-point game with 5:31 left in the third quarter.
The Chieftains looked to answer early in the fourth, but an unsportsmanlike conduct call killed a drive deep in Tiger territory. They couldn't manage any points out of the drive, as Tate came up short on a 39-yard field goal attempt. The THS defense preserved the win, though, as Jeff West's final three drives ended with a fumble and two fourth-down stops.
In the other district game, Basehor-Linwood handed Perry-Lecompton a 29-14 defeat. All four teams are 1-1 in district play, so a win Thursday at BLHS would guarantee the Chieftains their first playoff berth since 2006.
"It's huge for everybody," Troyer said of Thursday's game. "We've just got to play another 48 minutes. If we put forth the effort that we did (Friday), it's going to be a great game."
Score by quarters
Jeff West 0 0 7 0 — 7
Tonganoxie 3 6 0 0 — 9
First quarter
THS — Eric Tate 29 field goal, 7:21
Second quarter
THS — Tyler Ford 17 run (kick failed), 4:54
Third quarter
JWHS — Wyatt Miller 22 run (Grady Middendorf kick), 5:31
Rushing
JWHS: Ian Mullins 18-36, Wyatt Miller 15-65, Josh Becker 4-8, Cylus Tichenor 3-3, Bret Ricklefs 1-5, Drew Slimmer 1-1; THS: Cole Holloway 18-71, Shane Levy 7-29, Tyler Ford 9-17.
Passing
JWHS: Mullins 10-15-0 126; THS: Ford 8-31-1 74.
Receiving
JWHS: Miller 4-19, Ricklefs 3-59, Slimmer 37, Becker 1-11; THS: Levy 3-17, Wyatt Weeks 2-41, Jared Sommers 1-14, Brett Shelton 1-2, Ben Johnson 1-0.