Athletes to watch: Part 1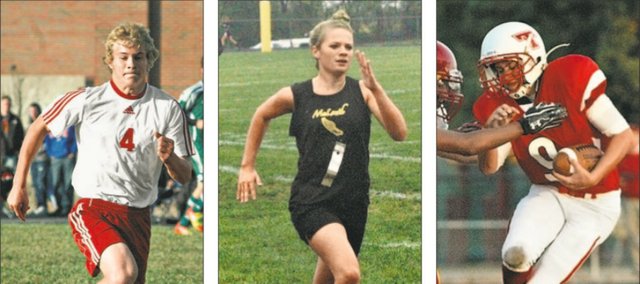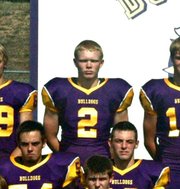 Editor's note: This is the first in a three-part series highlighting some of the top fall athletes at Tonganoxie and McLouth high schools. Each of these athletes played pivotal roles on their respective teams last season and are seemingly poised for even more success in 2013. This series will continue through The Mirror's Aug. 28 print edition. Athletes are listed in no particular order.
Asher Huseman, Jr., THS soccer
Huseman was new to the Chieftain soccer program as a sophomore, but needed little time to establish himself as one of the team's top scoring threats. He finished second on the team with 19 goals in a season that ended in the Class 4-1A state championship game.
Huseman started 20 of the team's 21 games at forward and found the net at least once in 11 contests. He ended the year with four multi-goal games, including a team-best five scores against Eudora. He also finished third on the team with seven assists and, despite spending most of his time on the front line, racked up 36 steals.
Following his sophomore campaign, Huseman earned first-team All-Region and second-team All-Kaw Valley League honors, as well as an All-State honorable mention. With leading scorer and All-Stater Matt Saathoff now gone to graduation, as well as eight other starters from last year's team, the Chieftains will likely look for Huseman to play an even bigger role on offense in 2013.
Savannah Noble, Jr., MHS cross country
Noble will be a junior this fall at Oskaloosa High School, but the Bears co-op with the Bulldogs for cross country season. She returns as the top runner on the MHS girls team that will begin its first season under new coach Ryan Scott.
Noble opened her sophomore season with a 25th-place performance at the Jeff West Invitational and stayed at or near the top of the team standings all season. She regularly finished under 21 minutes and led the team with a time of 19:35 at the McLouth Invitational, but didn't compete in the team's Class 2A regional meet at the end of the season.
Alongside fellow senior Kayla Steffey, the McLouth girls will return their top four runners this fall, so the Bulldogs could be in for more team success in 2013.
Tyler Ford, Sr., THS football
In his first season as the Chieftains' starting quarterback, Ford helped engineer one of the best THS seasons of the last decade, leading the team to its first district title and playoff victory since 2005.
Ford put up big numbers through the air last season, throwing for 1,071 yards and five touchdowns. He became the first Chieftain in recent memory to throw for more than 300 yards when he threw for 317 and two scores in a 30-16 homecoming victory against Bishop Ward. He was at his best late in the season, though, as he completed nearly 76 percent of his passes in playoff games against Atchison and Eudora.
Ford is one of eight returning offensive starters who will look to make an even bigger splash in coach Al Troyer's second season. The offense enters the upcoming season much more familiar with Troyer's playbook than it was a year ago, so look for Ford to make an impact early and often in 2013.
Nick McAferty, Sr., MHS football
McAferty emerged as the leading receiver on a Bulldog team that went 8-1 in the regular season and ended a seven-year playoff drought. The 6-foot-1 wideout hooked up with quarterback Marc Walbridge for a team-high 10 touchdowns through the air, including three in postseason play.
McAferty's biggest offensive output came in a 47-20 win against Pleasant Ridge, in which he caught 12 passes for 222 yards and five touchdowns — all season-highs. He ended his junior campaign in a big way, hauling in seven catches for 125 yards and a score in a sectional playoff loss to Lyndon. He also saw time at defensive back on a defensive unit that allowed just 9.3 points per game in the regular season.
The Bulldogs will have to break in a new quarterback this fall, but McAferty, who helped the team to a combined 16-4 record in the last two seasons, is one of six returning starters on offense. Look for him to put up more big numbers in his final season in a purple and gold uniform.
Marissa Martin, Sr., THS volleyball
Martin stepped into the libero roll for the first time as a junior, and by the end of the season, she had emerged as one of the league's best. She averaged a team-best 10.8 digs in 36 matches last season and helped THS reach the Class 4A sub-state championship match in its own gymnasium.
Despite learning a new position last season, Martin led the team in digs in all but six matches. She eclipsed the 20-dig mark three times, including a season-high 25 in a four-set loss at Holton. She also finished fourth on the team and second among returning players with 25 services aces. Following the season, she was rewarded for her efforts with an All-KVL honorable mention.
Martin is one of three incoming seniors with varsity experience and will likely be looked to for leadership as the team works to replace three of its top four front-court players, including a two-time All-State selection in 2013 grad Jenny Whitledge.