Heading in the right direction in Leavenworth County
New trail maps feature pathways in county communities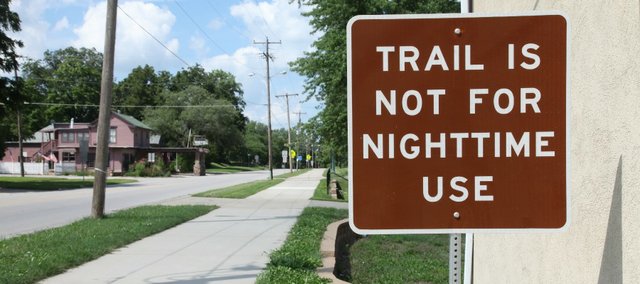 Walking and biking trails wander the landscapes of some Leavenworth County communities. A map now makes them easier to find.
The Leavenworth County Trails Committee, through the Leavenworth County Port Authority, organized the creation of the map, which shows walking and biking routes in Basehor, Lansing, Leavenworth and Tonganoxie.
Cecilia Harry, economic development coordinator at Leavenworth County Development Corp., said the maps were designed to educate prospective developers about the county's trails system. In addition, it is hoped, the maps will promote healthy lifestyles among residents and guests.
"It was a tool to use with current residents of the county and visitors of the county and getting them out and active and using the trails that are already in existence," Harry said.
Volunteers have worked for about a year to get information compiled and printed for the maps. Harry said 10,000 maps will be distributed during the next two years. The project, which local businesses and organizations funded, cost $4,000, Harry said.
The committee has visited Leavenworth County libraries handing out maps and educating visitors about the trail systems. Harry said library visits have allowed volunteers to spread the word about available trails and clear up misconceptions.
"'I thought this was a county map,'" Harry said, expressing a common comment at the libraries. "People expect there to be trails in all areas of the county."
Harry said the county could have built more connecting trails in the 1980s. At that time, through the Rails to Trails Conservancy, there was an opportunity for the county to have a more connective trails system when abandoned railways started being transformed into trails. But Leavenworth County Commissioners instead approved returning the railways to property owners, Harry said.
Though rail-to-trail conversion probably is no longer an option, Harry said subdivision developers could help the cause by adding trails to their plans. She said the Leavenworth County Commission also could contribute down the road through budget allocations to trail projects.
In Tonganoxie, Chieftain Trail connects the downtown area to U.S. Highway 24-40 at Main and VFW Park on County Road 5. Work is expected to start soon on an extension of the trail north on CR 5 to Laming Road. The Kansas Department of Transportation approved a nearly $900,000 grant in 2010 for the 1.25-mile extension that will connect the current trail with the north side of U.S. Highway 24-40. The trail will end near the Tonganoxie Post Office on Woodfield Drive. The city is required to provide matching funds of about $223,000 for the project.
The maps can be downloaded online at lvcotrails.org starting next week. A list of businesses and organizations where maps can be found also will be posted on the site.