Dent's only varsity season will end at state
THS

senior grinds out two

OT

wins to punch ticket to Salina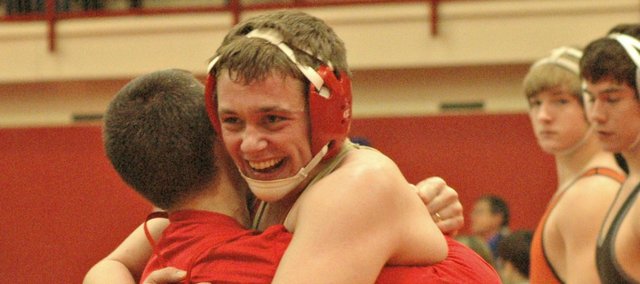 Photo Gallery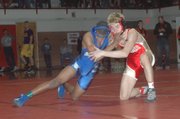 THS state qualifiers
Eight Tonganoxie High wrestlers will be in action Friday and Saturday at the Class 4A state tournament in Salina.
If opportunity really knocks but once, Gus Dent made sure he'd be there to answer the door.
Despite being one of three seniors on the Tonganoxie High wrestling team, Dent had never seen more than fill-in duty on the varsity squad before this season. But, after three years as a mainstay on the junior varsity roster, he finally got the call in December.
Dent's only varsity season started with an individual title at the Wamego Invitational. He added three more top-three tournament finishes in the following months, including a Kaw Valley League title at 170 pounds. Then, in front of a home crowd at last week's Class 4A regional, he made sure the ride he'd so patiently awaited would end on the state's biggest stage.
Powered by two overtime victories, Dent placed third in his weight class, punching his ticket to this week's state tournament in Salina.
"It feels pretty good to be going to state after having to wait for so long for my opportunity," Dent said.
Dent received a first-round bye as the No. 7 seed in his weight class, setting up a quarterfinal matchup with second-seeded Geoffery Vaughn of Atchison on Friday. Dent avenged an early-season loss to Vaughn with an 11-10 victory that took three extra periods.
A semifinal loss to Baldwin's Mark Harman left Dent in a do-or-die situation against Bonner Springs' Jacob Folsom on Saturday. The duo had already wrestled twice in the previous two weeks with Dent winning by scores of 13-5 and 5-1, but things were much closer in their third meeting. Dent took a 4-3 lead with a late reversal, but an escape by Folsom tied the score with just two seconds left, and the match went to sudden-victory overtime.
Coaches, teammates and fans erupted when Dent sealed the deal with a two-point takedown midway through the extra period, locking up a state bid.
"Really, it was just the coaches. Every time I looked at them, they had high energy," Dent said. "That helps me elevate and keep focused. When you see coach (Jeremy) Goebel jumping up and down, and when you see Ross (Starcher) doing the same thing, that really helps a lot right there."
Dent closed out the day with yet another comeback win, recording a late takedown for a 5-4 victory against Eudora's Thaius Boyd in the consolation final.
"Actions speak louder than words," Goebel said. "What he did is what Gus does every day. What he did out there made the crowd go crazy for the simple fact that they could visually see in six minutes what he has in terms of heart. We see that every day for 120 minutes."
One of eight Chieftains to qualify for state, Dent will enter the Salina Bicentennial Center on Friday with a 19-11 record. He'll open competition against Clearwater's Darick Jones, a second-place finisher at the Augusta regional.
Once again, he'll be waiting for a knock at the door.
"We'll just take it one match at a time," Dent said. "The bottom line is just finish."