Losing streak hits three for Chieftain girls
Hot shooting marred by 24 turnovers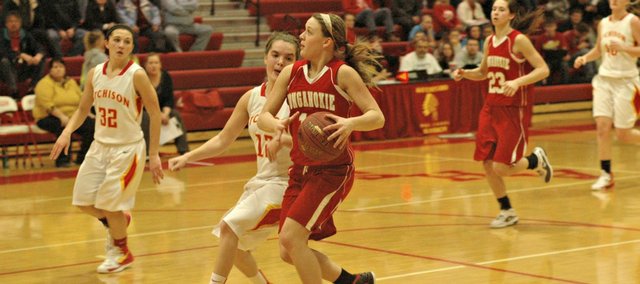 Atchison — Numerous offensive breakdowns and untimely turnovers overshadowed arguably the best shooting performance of the year by the Tonganoxie High girls, who watched their losing streak grow to three games on Friday.
The Chieftains shot better than 50 percent from the floor and recorded their second-highest point total of the season, but couldn't overcome 24 turnovers in a 70-66 loss at Atchison.
"There were a lot of things that made the difference," coach Randy Kraft said. "One was not very good defense, and two was turning the ball over and not playing within ourselves. When we ran our stuff, we were pretty good. There were just too many times that we weren't."
THS (8-4) came out firing on all cylinders, making its first 10 field goal attempts and going 11-of-12 in the first quarter. It led by a 24-18 margin at the end of the period, but Atchison started to take control in the second.
Defensive mishaps led to easy layups for AHS, which opened the quarter on an 11-4 run to go up by one. Tonganoxie couldn't recover before the break as the deficit grew to six at halftime, 42-36.
Kraft's squad used a third-quarter surge to force a 50-50 tie at the start of the final period, but failed to regain the lead. Atchison's Arika Smith and Madison Sanders made the Chieftains pay when it mattered most, as they combined for AHS' final nine points.
A three-pointer by Smith gave Atchison a 67-63 lead with 38 seconds left, but THS didn't go down without a fight. A free throw by Hannah Kemp made it a one-possession game with 25 seconds left, but Smith answered with a layup and the Chieftains committed their 24th and final turnover on the ensuing possession.
"It shouldn't have gotten to the point of needing one more play," Kraft said. "Sometimes, you're going to find a team that is hot, and that's when you've got to run your stuff and stay with it. They'd hit a shot or two and we'd get a little frantic. We didn't play in our offense and bad things happened."
Jenny Whitledge and Katelyn Waldeier each recorded double-doubles in the losing effort. Whitledge scored a career-high 29 points and pulled down 13 rebounds, while Waldeier added 12 points and 12 boards. Emily Soetaert joined the duo in double figures with 11 points. Smith and Sanders led AHS with 23 and 20 points, respectively.
The Chieftains, who have lost their last three games by an average of 3.7 points, will try to get back in the win column when they resume Kaw Valley League play Tuesday at Lansing.
"We've played three close games in a row now and lost all three," Kraft said. "The kids have got to believe in themselves and in each other. We've got to get that turned around as a team."
Score by quarter
Tonganoxie 24 12 14 16 — 66
Atchison 18 24 8 20 — 70
Individual scoring
TONGANOXIE — Jenny Whitledge 9-12 11-15 29, Katelyn Waldeier 6-12 0-0 12, Emily Soetaert 5-6 0-1 11, Madee Walker 2-7 2-3 6, Hannah Kemp 2-10 2-4 6, Kara Banks 1-1 0-0 2.
ATCHISON — Arika Smith 7-13 7-10 23, Madison Sanders 8-19 1-2 20, Ashton Ettleman 4-8 3-4 11, Alyson Weber 3-9 0-0 8, Marianna Markou 2-3 0-0 4, Mady Shipley 1-1 0-0 2, Laurene Cushinberry 1-1 0-1 2.