THS

wrestling takes second in Baldwin
Miller, Coats win individual titles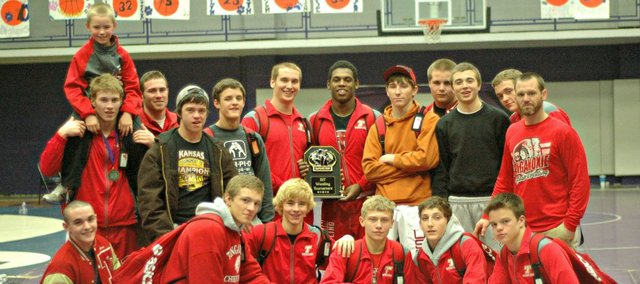 Baldwin City — The Tonganoxie High wrestling team went a combined 25-17 Saturday at the 12th annual Baldwin Invitational, good enough for 180 points and a second-place finish in the team standings.
The Chieftains, who entered the tournament ranked eighth in Class 4A, finished 41 points behind No. 10 Holton — the only other ranked squad in the 16-team field. Individually, THS had nine wrestlers earn top-eight finishes, including five who won their final matches.
Seniors Julius Coats (195 pounds) and Thomas Miller (220) each went 3-0 and won titles in their respective weight classes. Coats, who competed for the first time since the Bobcat Classic on June 12, needed just 28 seconds to pin De Soto's Chandler Carter in the finals. Miller also faced a De Soto opponent in Jeremy Slitor, but Slitor injury defaulted before the end of the first round.
Asher Huseman (152) was the only other Chieftain to reach the championship round. He dropped an 8-5 decision against Royal Valley's Tanner Ogden.
Dalton Tavis (126), Clayton Himpel (132) and Luke Carey (182) all bounced back from semifinal losses to reach the third-place match. Tavis and Carey each defeated their opponents, but Himpel scratched after suffering an injury in his previous match.
Connor Yates (106) and Garrett Martin (120) each took sixth and Dylan Yates (138) finished seventh to round out THS' lists of top-eight finishers. Gus Dent (170) had a shot at the seventh-place match, but had to injury default before the medal rounds.
The Chieftains will have a break from tournament competition, but they'll travel Thursday to second-ranked Bonner Springs for a dual between Kaw Valley League rivals.
Overall team scores
Holton, 221; 2. Tonganoxie, 180; 3. Spring Hill, 174; 4. Baldwin, 157; 5. Abilene, 144; 6. Prairie View, 127; 7. Royal Valley, 110; 8. Oak Park, 109; 9. Basehor-Linwood, 107.5; 10. Paola, 103; 11. De Soto, 102; 12. Wamego, 78.5; 13. Lansing, 67; 14. Louisburg, 46.5; 15. Santa Fe Trail, 37; 16. Eudora, 27.
THS individual results
106 — Connor Yates 1-3 (Sixth)
113 — Open
120 — Garrett Martin 2-3 (Sixth)
126 — Dalton Tavis 4-1 (Third)
132 — Clayton Himpel 2-2 (Fourth)
138 — Dylan Yates 3-2 (Seventh)
145 — Seth Wolf 0-2 (N/A)
152 — Asher Huseman 3-1 (Second)
160 — Open
170 — Gus Dent 1-3 (N/A)
182 — Luke Carey 3-1 (Third)
195 — Julius Coats 3-0 (First)
220 — Thomas Miller 3-0 (First)
285 — Open