Garden play in Tonganoxie
Business-adjacent garden flourishing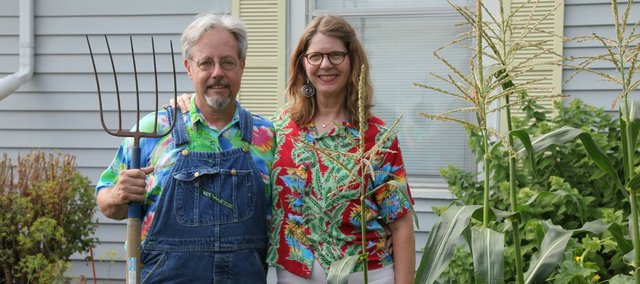 Instead of taking work home, Cheryl Hanback, one might say, is taking home to work.
The imprint of Hanback's green thumb, as well as that of her husband, Richard Brown, can be found near The Little Gray House, at U.S. Highway 24-40 and Third Street in Tonganoxie.
A roughly 600 square-foot garden grows adjacent to the building, which his home to her business, Cheryl Hanback Web Graphics.
Corn stocks tower over several tomato varieties, cantaloupe, cucumbers, squash and peppers.
Chives, dill, parsley and basil also are plentiful, as are rhubarb plants and Japanese eggplants.
The couple did have a raised bed last year and a pallet garden. The pallets allow for vegetation to be grown in rows.
This year, though, they opted for a more traditional garden.
"It's kind of going nuts," Hanback said about the produce growing in the garden.
The couple live outside Tonganoxie with ample space for a garden. But with the recent drought, the "urban" garden made more sense.
"With the drought, we don't want to waste our well water watering it," Hanback said. "The soil was really good (near the business). And it's easy to water."
They also have a rain barrel set up near the house that's decorated with a sunflower. Hanback's cousin, Master Gardener Rebecca Cropper of Overland Park, painted the rain barrel.
Brown, who recently retired from teaching fourth grade in Lecompton, admits that he generally isn't involved in the gardening for the end result. He doesn't necessarily want to partake in the vegetable bounty. As his brother put it, "gardening is its best reward," Brown said.
The couple also cans and pickles much of their produce, something Brown said his grandfather might have influenced.
When his grandfather was a young man, he sold canned items he'd grown from a wagon in Kansas City, Mo.
Hanback and Brown have tried a few different techniques with their gardening — or at least variations. They researched the "three sisters" approach to growing crops that some American Indians used. It involves growing squash, corn and beans in close proximity. The squash helps protect the corn plants' roots, while the corn plants allow the beans an object to climb.
The couple didn't plant beans, but positioned the squash near the base of the corn. Both seem to be flourishing this summer in their garden.
Another technique they researched called for seeds to be planted directly in bags of various potting soil. The bag is situated on one side while the other is exposed so plants and seeds can be planted. Because neighboring cats mistook the bags for litter boxes, the couple placed chicken wire over the bags, Hanback said.
Though gardening is Brown's favorite part of the process, the couple have also tried some recipes. Zucchini brownies and various squash dishes have been prepared, to name a few. Hanback said she plans to try some unique recipes, such as a rhubarb glaze for chicken.
The garden's bounty has provided plenty of food, but Hanback's skills also translated into some prize-winning lavender at the Leavenworth County Fair.
"I had this big blue ribbon and this teeny tiny piece of lavender," said Hanback, who won't have any entries in this week's Leavenworth County Fair. She hopes to enter again at future fairs.
A proponent of community gardens, Hanback said Tonganoxie would benefit from such a plot. Basehor PRIDE has a community garden in the Basehor City Park. That organization received a $5,000 grant in 2012 to start the garden.
In the meantime, Hanback will tend to her own garden and bake and cook produce from it.
"If anybody has any recipes for zucchini, send them my way," she said.