Graf takes over McLouth boys hoops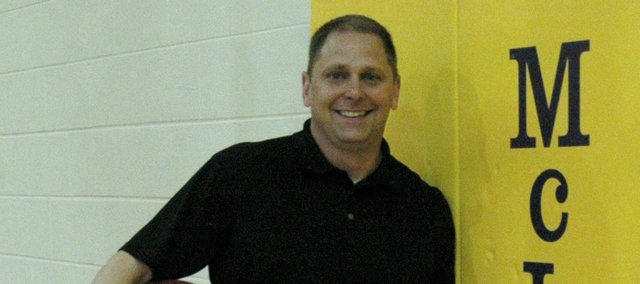 McLouth — The McLouth High boys basketball team will be under new leadership this season, but that doesn't mean there will be an unfamiliar face on the sideline when November rolls around.
Jason Graf, who spent last season as an assistant coach on the girls team, has taken the reins of the boys program. He replaced former head coach and athletics director Jason Schroeder, who recently left MHS to take a job in Holton.
"I took the job after school got out, so I had to call every kid that had gone to a basketball meeting and said they were interested," Graf said. "When I called them all, they knew who I was right away. They know my background, so it's not like some guy off the street walking in."
Graf enters a program looking to replace three graduates in Dakota Cop, Marc Walbridge and University of Saint Mary signee Carter Gish. The cupboard is hardly bare, though, as incoming seniors Drew Cerny and Nick McAferty each return after earning All-Delaware Valley League honorable mentions in 2012-13.
Fellow senior Dylan Dover and juniors Nic Bair and Jack Courtney are also back after logging significant varsity minutes last season. Graf said he'll also have a large incoming freshman class and several sophomores who will compete for varsity time.
Last year's squad went 10-10 and fell to Onaga in the first round of its Class 2A sub-state tournament.
"Coach Schroeder left the program in a great situation to take over," Graf said. "It's not like I'm coming in when they've won one game. They have a foundation built, so I just have to continue the building process."
Graf brings nearly two decades of coaching experience to the Bulldog program. He's coached at junior colleges and NAIA schools in Kansas, Colorado and Utah and has also served stints at Lansing, Leavenworth and Immaculata high schools.
Additionally, Graf has given private lessons in the area for the last four years.
The familiarity he gained with the team last year has already paid off, as several players are already taking advantage of open gym opportunities.
"It's really good because we have a good working relationship," Graf said. "They see me as someone they know and trust, but they also believe that I can bring something to make them all better."
Graf said he rarely saw complete boys games last season because of his coaching duties with the girls team, but he has already begun studying game film from last season in preparation for the 2013-14 campaign — McLouth's first in the newly founded Northeast Kansas League.
After accepting the position at McLouth, Graf met with each returning in an attempt to establish goals for his first season. The response was strikingly similar up and down the roster: end the season at the state tournament.
"According to everyone I've asked, it's been so long that you might as well say we've never been," Graf said. "They set that goal of 'we've never done it, so why don't we do it?' They've set the bar fairly high for themselves, so that can only be obtained if they come in and go to work. Right now, they're doing that.
"They want to win and they love to win. Sometimes kids today say they want to win, but they don't know how to go about it. These kids have come in during the offseason and acted like they want to get better, so it wasn't just window dressing."
Graf said open gym sessions will continue throughout the summer, and he'll try to set up scrimmages to give the team a look at live competition.
An assistant coach has not yet been hired. In addition to his duties with the boys program, Graf will serve as the middle school girls coach for the upcoming season. The hires were made official after Schroeder's departure, but Schroeder played an integral role in the interview process. The former AD has since been replaced by Graf's sister, girls head coach Lindsey Graf, so Schroeder's involvement in the hiring helped avoid any potential conflicts of interest.