THS

thumps Kaws in district opener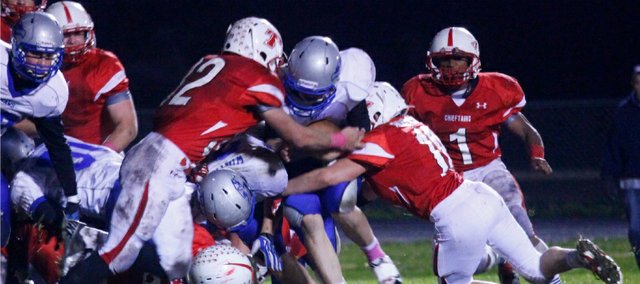 District standings
School, Record (Points)
Tonganoxie, 1-0 (+21)
Jeff West, 1-0 (+1)
Basehor, 0-1 (-1)
Perry, 0-1 (-21)
Tonganoxie High's opening drive Friday against Perry-Lecompton ended with a fumble. After that, though, the game was all Chieftains.
Cole Holloway ran for 176 yards on just 17 carries as THS cruised to a 37-8 win in its Class 4A District 2 opener at Beatty Field. The Chieftains (6-1, 1-0 district) racked up 326 rushing yards in the win and shut out the Kaws (3-4, 0-1) until the final minute of the fourth quarter.
"We knew it was going to be a physical game because the Big Seven is a physical league," coach Al Troyer said. "Our kids played well and they came out hungry."
THS went in front on a two-yard touchdown run by Tyler Ford midway through the first quarter, then made it 14-0 on an eight-yard touchdown run by Holloway in the second. Holloway forced a Kaw turnover to set up his score, sacking quarterback Mitchell Bond and knocking the ball loose. James Grizzle recovered the fumble, giving THS possession at the PLHS 38-yard line.
The Chieftain defense forced a turnover-on-downs inside at its own nine-yard line, giving the offense the ball with less than three minutes before halftime. THS drove inside the 20 and Eric Tate kicked a 34-yard field goal as time expired make it 17-0 at the break.
"We rep that every week," Troyer said of the late scoring drive. "The kids did a great job just like they have been, week in and week out."
Play was halted for several minutes when Ben Clark suffered a concussion on the kickoff following Ford's touchdown. Clark left the game in an ambulance, but has since been released from the hospital.
The Kaws looked to get back within two possessions when Reed Mitchell returned the a kickoff to the THS 18-yard line to open the second half, but the Chieftains forced a turnover-on-downs. They followed up the defensive stop with an 86-yard drive, capped off with a four-yard touchdown pass from Ford to Maleak Gibson.
Following a PLHS fumble on the ensuing drive, Shane Levy made it 31-0 THS with a five-yard score. The defense then forced a three-and-out, and Jared Sommers returned a punt 72 yards for a touchdown late in the third quarter — the team's first non-offensive score this season.
The Kaws broke up the shutout on a 16-yard touchdown run by Taylor Spencer with just 52 seconds remaining.
Levy nearly joined Holloway as a 100-yard rusher, carrying the ball 14 times for 95 yards. Holloway played sparingly after halftime, but went over 1,000 yards for the season. He now has 1,035 yards and 10 scores on the year. As a team, THS has run for more than 300 yards in five games in 2013.
"It's a lot better because everyone is on the same page," offensive lineman Cody Snyder said. "It seems like everyone is working together more to just let the machine run down the field."
Perry-Lecompton's Austin Kurtz put up 167 yards on the ground, including a 70-yard run on the team's final drive.
THS can put itself in the driver's seat Friday when it travels to Meriden to face Jeff West (6-1, 1-0). The Tigers defeated Basehor-Linwood in Friday's other district game, squeaking out a 36-35 win in overtime. The Chieftains won a defensive struggle in last year's meeting with JWHS, 9-7.
"We're proving to everybody that it's not a flaw that we're here," Snyder said. "We belong here in district playoffs. This is just one more step forward toward where we need to go."
Score by quarters
PLHS 0 0 0 8 — 8
THS 7 10 20 0 — 37
First quarter
THS — Tyler Ford 2 run (Eric Tate kick), 5:05
Second quarter
THS — Cole Holloway 8 run (Tate kick), 7:08
THS — Tate 34 field goal, :00
Third quarter
THS — Maleak Gibson 4 pass from Ford (Tate kick), 7:28
THS — Shane Levy 4 run (Tate kick), 3:25
THS — Jared Sommers 72 punt return (kick failed), 1:30
Fourth quarter
PLHS — Taylor Spencer 16 run (Spencer run), :52
Rushing
PLHS: Austin Kurtz 27-167, Taylor Spencer 5-23, RJ Whitaker 6-9, Reed Mitchell 1-6, Trysten Meyer 3-5, Mitchell Bond 5-(-3); THS: Cole Holloway 17-176, Shane Levy 14-95, Tyler Ford 12-49, Luke Carey 3-10, Kyle Fain 1-2, Jordan Brown 1-(-1), Jordan Boudreaux 1-(-5).
Passing
PLHS: Bond 4-5-0 56; THS: Ford 5-9-0 41.
Receiving
PLHS: Spencer 1-38, Caleb Daniels 2-11, Mitchell 1-7; THS: Jared Sommers 1-18, Aaron Davis 1-9, Levy 1-8, Maleak Gibson 1-4, Carl Hecht 1-2.
More like this story