Chieftains defeat Bobcats to clinch district title
THS

will host Bishop Ward in Tuesday's playoff opener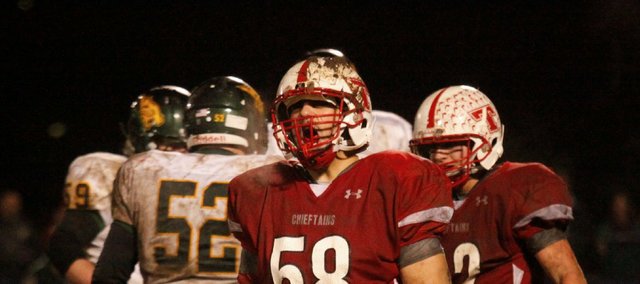 When it went into the locker room at halftime, the Tonganoxie High football team found itself in a dogfight with rival Basehor-Linwood. But, a dominant second half, including key plays by several seniors, guaranteed the 2013 season would carry into November.
The Chieftains led by a single touchdown at the break, but limited the Bobcats to just 69 yards of offense in the second half of a 29-14 win at Beatty Field. With the victory, THS (8-1, 3-0 Class 4A District 2) clinched its second district title in as many years.
"Momentum is a big, big thing," said Chieftain coach Al Troyer, who led the team to its best regular season record since 2006. "This is a rivalry for these kids, and it was a hard-fought game on both sides. We knew they weren't ever going to die, but it's nice having this senior leadership. To have that versatility is an awesome asset."
Basehor-Linwood (3-6, 1-2) scored on its first possession when quarterback Tim Sanders hit Dalton Inlow on a crossing pattern on third-and-18 deep in Bobcat territory. Inlow beat the defense and went 74 yards for a score, then Sanders hit Jahron McPherson on the two-point conversion to make it 8-0.
THS answered with a 16-yard scoring run by Cole Holloway, capping off a drive of 10-straight running plays, and quarterback Tyler Ford added a conversion on the ground to tie it up midway through the period. The Chieftains took the lead on the second play of the second quarter when Holloway scored from five yards out, but the Bobcats responded on the ensuing drive when Sanders connected with Bryan Crowe on a 36-yard touchdown pass.
"We were there, but they got it over the top in the end zone," Troyer said. "They knew what they had to do to be effective because we were shutting them down running the ball."
Ford threw a touchdown pass of his own to Jared Sommers with 6:12 left in the half, and THS took a 22-14 lead into the locker room.
The Chieftains drove deep into BLHS territory on their first drive of the second half, but Inlow intercepted a pass by Sommers at the Bobcat 14. The THS defense got the ball back with a fourth-down stop inside the 25-yard line, and Holloway scored his third and final touchdown on an eight-yard run late in the third quarter.
Holloway's score provided the only second-half points, as BLHS went three-and-out or turned the ball over on downs on its final three drives.
Sanders threw for 217 yards, but was just 5-of-15 in the second half. He spent most of the final two quarters on the run and was sacked five times — three by James Grizzle.
"We just needed to liven up and keep the secondary on them," said Grizzle, who leads the Chieftains with 11 sacks this season. "We were able to be a little more aggressive and get after them (in the second half)."
Luke Carey and Wyatt Weeks each had a sack, and Carey and Grizzle tied for the team lead with six tackles each. As a team, the Bobcats ran for just 11 yards on 21 carries.
Holloway went over the 100-yard mark for the seventh time this season, carrying the ball 27 times for 151 yards. Ford had just five passing attempts for the Chieftains, completing four of them for 47 yards.
With the win, THS advances to the 4A playoffs. It will take on District 1 runner-up Bishop Ward (2-7) in the bi-district round at 7 p.m. Tuesday. The contest is a home game for the Chieftains, but because of poor field conditions, it will be played at Bonner Springs' David Jaynes Stadium.
THS rolled to a 55-6 win in a regular-season meeting Oct. 4 at Bishop Ward. The Cyclones ended a 33-game losing streak with a win against Sumner Academy in their district opener, then defeated Atchison a week later to earn their first playoff bid since 2008.
"It's just one week at a time. We know they're a better ball club than the last time we played them, so we've just got to come out and do what we do," Troyer said. "Coach (Matt) Bond and Preston Troyer will get us in our game plan, and we'll go from there."
If the Chieftains defeat the Cyclones, they'll advance to Saturday's regional round, where they'll face the winner of Baldwin (9-0) and St. James Academy (6-3).
Score by quarters
BLHS 8 6 0 0 — 14
THS 8 14 7 0 — 29
First quarter
BLHS — Dalton Inlow 74 pass from Tim Sanders (Jahron McPherson pass from Sanders), 10:56
THS — Cole Holloway 16 run (Tyler Ford run), 7:16
Second quarter
THS — Holloway 5 run (Eric Tate kick), 11:25
BLHS — Bryan Crowe 36 pass from Sanders (pass failed), 10:31
THS — Jared Sommers 16 pass from Ford (Tate kick), 6:12
Third quarter
THS — Holloway 8 run (Tate kick), 3:32
Rushing
BLHS: Tim Sanders 17-11, Alex Jackson 1-1, Jahron McPherson 2-0, Bryan Crowe 1-(-1); THS: Cole Holloway 27-151, Shane Levy 14-74, Tyler Ford 13-27.
Passing
BLHS: Sanders 11-24-0 217; THS: Ford 4-5-0 47, Sommers 0-1-1 0.
Receiving
BLHS: Dalton Inlow 2-83, Crowe 3-64, Austin Rowland 1-32, Layne Roberts 1-15, McPherson 1-12, Boston Henry 3-11; THS: Sommers 2-29, Maleak Gibson 1-11, Levy 1-7.