Chiefs honor Troyer with coaching award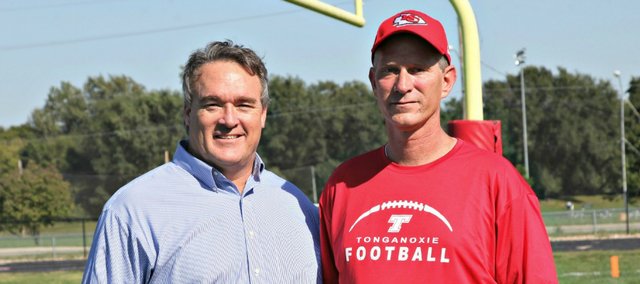 The Kansas City Chiefs have named Tonganoxie High football coach Al Troyer the Chiefs High School Football Coach of the Week. The honor comes after Troyer led the Chieftains to a 28-0 win against Piper Friday at Beatty Field.
Chiefs Hall of Famer Gary Spani, now the team's director of special events, presented Troyer with the award before Thursday's practice at Beatty Field.
The award includes a $500 grant from the National Football League, a football autographed by Chiefs coach Andy Reid, a specialized hat and a certificate from the NFL. Additionally, Troyer is now eligible to win the Coach of the Year award at the end of the season.
After ending Tonganoxie's seven-year playoff drought in his first season, Troyer has the 2013 Chieftains off to a 3-0 start for the first time since the 2006 season. THS will travel Friday to Mill Valley.