Current, retired educators from Tonganoxie square off in general election
Reed, Karleskint prepare for November showdown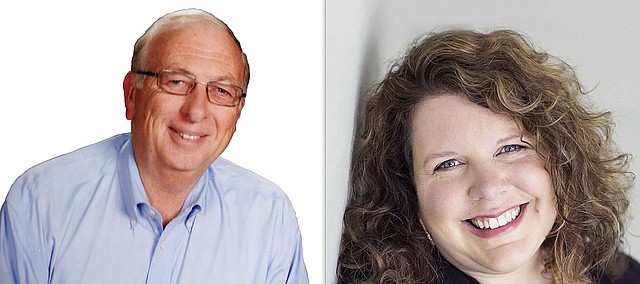 With the primary elections behind them, local candidates in Kansas House races are now turning their attention to the general election ahead.
Two members of the Lawrence-area delegation, Democratic Reps. John Wilson and Boog Highberger, can relax through November. They had no challengers in either the primary or general elections.
But the remaining candidates will have to work for their seats in a year when, based on the primary election results, many voters are saying they want state government to move in a different direction.
Democratic Rep. Barbara Ballard and Republican Rep. Tom Sloan both face challenges from the other party, while in the 42nd District, which includes parts of Douglas and Leavenworth counties, there will be a battle between two newcomers to state politics.
42nd House District
Moderate Republican Jim Karleskint of Tonganoxie, a retired school superintendent, succeeded in unseating five-term incumbent Rep. Connie O'Brien in the primary election Aug. 2. He now faces Tonganoxie City Councilwoman Kara Reed — also with experience in education — in the general election.
"Kara will be a very tough competitor," Karleskint said Thursday. "It's going to be a lot of hard work between now and November."
On paper, there aren't many major issues that separate Karleskint and Reed.
Both have been critical of the sweeping tax cuts that Gov. Sam Brownback championed in his first term, and both say they want to provide more funding for public education.
"I think the difference is I do have some experience in public service," said Reed, who was appointed to a seat on the Tonganoxie City Council three years ago, and then was elected to a full term last year.
"I know the district well and I know the community well," she said. "I've been active in the community since we moved here. I think people understand I can do that at the state level as well."
But Karleskint, who now teaches as an adjunct professor at Baker University in Baldwin City, said he thinks he's in a better position to address one of the most pressing tasks the Legislature will face next year: writing a new school finance formula.
"We have to look at school finance in the sense of providing an adequate formula for schools, but that's not going to be a simple chore," he said. "The block grants they enacted (in 2015), they did away with the school formula that had been in place since 1992.
"It's not going to be a simple task to get everyone together on a school finance formula."
Reed also has a background in education, as she has taught the last several years as a biology instructor or Kansas City Kansas Community College.
According to campaign finance reports, Reed raised nearly $20,000 for her campaign during the primary election cycle, and she goes into the general election with more than $11,000 on hand.
That's significantly more than Karleskint, who raised $6,475 during the primary and spent much of it defeating O'Brien.
He heads into the general election with about $2,000 on hand.
38th District
In the 38th District race, incumbent Willie Dove, R-Bonner Springs, defeated challengers Mitra Templin and Nathan Lucas in the Republican primary. He will face Basehor Democrat Mike Fonkert, a Tonganoxie High School graduate, in the general election.
44th House District
Rep. Barbara Ballard, D-Lawrence, is seeking her 13th term in the Kansas House. An associate director of the Dole Institute of Politics on the University of Kansas campus, she currently chairs the House Democratic Caucus meetings and is the ranking Democrat on the KanCare Oversight and Social Service Budget committees.
She now faces Michael Lindsey, a retired AT&T employee and self-described moderate Republican.
Lindsey was unavailable for questions Thursday, but in an earlier interview he said he is running because he thinks he can be more effective in changing the direction of the state by working from within the Republican caucus.
"Since it's a Republican-dominated Legislature, it would be better to work through the party in power," he told the Journal-World in May.
"I've been a registered Republican all my life, and my family is strong Republican," he said. "I don't feel that the current GOP represents the party that I belong to, and I refuse to be pushed out by being considered moderate. I call it reasonable. The party has gone too far to the right."
Ballard has been an outspoken critic of the Brownback administration as well. But after the primary elections Tuesday, when moderate Republicans defeated a large number of incumbent conservatives, she said she holds out hope that the Legislature will be a much different body in the 2017 session.
"From what I hear going door to door, I would hope that we would have more people that would provide a different direction, especially in terms of education issues as well as thinking really about our tax reform," Ballard said. "Because 334,000-plus businesses are not paying, and the economy is not getting any better, we need some relief in that area."
Lindsey has indicated he does not intend to raise any money for his campaign. In July, when campaign finance reports were due, he filed an affidavit indicating he expects to spend less than $1,000 on the entire campaign.
Ballard, on the other hand, had more than $14,700 in her campaign fund at the first of the year and raised more than $5,400 during the primary election cycle. She heads into the general election with just over $16,000 on hand.
45th House District
Like Ballard, Rep. Tom Sloan, R-Lawrence, had a relatively easy time in his primary, defeating his more conservative challenger, Jeremy Ryan Pierce, for the second election cycle in a row, this time by a 70-30 percent margin.
Sloan is a moderate Republican and is seeking his 12th term in the Legislature. He works as a strategic planning consultant and farms just west of Lawrence.
Until last year, he had been chairman of the House Vision 2020 Committee, which focuses on long-range planning. But he was removed last year by House Speaker Ray Merrick as punishment for having moved a bill out of that committee that would have expanded Medicaid as allowed under the federal Affordable Care Act.
"I think that the majority of voters in my district, and in Douglas County, believe I've been advocating the right things," Sloan said after the primary. "A fair taxation system where everyone pays income tax, not just the lower-income people; reducing the sales tax that we increased two years ago; and that we need to be investing and protecting our water and our air and the rest of the things that go into our quality of life."
"And then of course there's education funding at all levels," he said. "Pre-kindergarten, K-12 and higher education. We have been decimating the educational opportunities, and we need to repair that."
He now goes into a general election against Democratic challenger Terry Manies, of Lecompton, who said she's ready to run a fully competitive campaign.
"I have been extremely dismayed at the dysfunction I have seen in the legislative system here in Kansas," Manies said when asked why she chose to run. "Also, I was watching things on the news and was not happy with the direction things were going in this country. I decided I could spend six months fretting about it or get up and do something about it."
Manies now works as a communications consultant but has had a varied career, including work as a research archeologist specializing in Viking culture, which led her to spend several years in Ireland, Great Britain and Norway.
Based on statements on her campaign website, Manies holds positions similar to Sloan on several issues. She supports expanding Medicaid, supports increased public school funding; opposes Brownback's tax policies; and opposes the state's strict voter registration laws that were enacted in 2012.
According to campaign finance reports, Manies raised over $5,300 during the primary campaign, spent a little more than $4,000, and goes into the general election cycle with about $1,100 on hand.
Sloan, however, has built up a sizable war chest in his 22 years in the Legislature. He started the year with $44,100 in his campaign account, and he raised nearly $15,500 during the primary cycle. After spending about $8,500 during the primary, he heads into the general election with more than $51,000 on hand.
The general election is Tuesday, Nov. 8. Advance voting in the general election begins Wednesday, Oct. 19.
— Mirror editor Shawn F. Linenberger contributed to this story.