15 things you might not know about Tonganoxie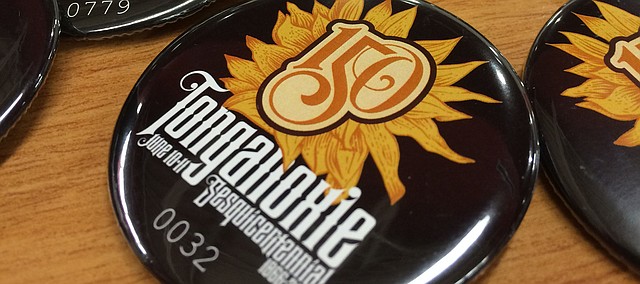 As Tonganoxie prepares to celebrate its 150th birthday with this weekend's sesquicentennial, The Mirror is rattling off 15 people, places and things that Tonganoxie is known for — or maybe not so known for:
1) Biggest school. The new Tonganoxie Elementary School, which opened last summer, is the largest elementary school in Kansas. The two-level structure is roughly 149,000 square feet and serves grades K-5.
2) One of a kind. Tonganoxie has an identifiable name. Some city names can be found in multiple states, but there's just one Tonganoxie. When the community was founded, there actually was a push to name it after Magdalena Bury, who platted the city 150 years ago, but she insisted it be named after Tonganoxie.
3) A TV replica. If you've ever tuned in to ABC's "Modern Family," you might have done a double-take. Eric Stonestreet's character Cameron Tucker hails from Tonganoxie, Mo. Stonestreet, who graduated from nearby Piper High School in Kansas City, Kan., named his fictional hometown after the Kansas version.
4) It's a beer. Though Tonganoxie isn't one of the many craft breweries to pop up in recent years, it does have a brew named after it. High Noon Saloon in Leavenworth serves the Tonganoxie Honey Wheat beer.
5) Weather phenomenon. Arguably one of the things Tonganoxie is best known for might not be a thing. The Tonganoxie split is the weather phenomenon that systems make their way toward Tonganoxie but then split off into various directions. Former Kansas City meteorologist Dan Henry coined the phrase, which other meteorologists have debated. It's since been dubbed a myth and a misconception, but legend certainly has stuck.
6) The 2000 tornado. Speaking of the phenomenon, bad weather always splits before getting to Tonganoxie, except that time it didn't. The community suffered a tornado in 2000 that roared down Hubbel Hill from the west. It did considerable damage to the Leavenworth County Fairgrounds and also caused damage to a downtown area that just was in the process of renovating its street and sidewalks.
7) The bus stops here. The Myers Hotel has seen plenty of changes through the years, from different names to different functions. But the storied structure at Third and Main will forever be known as the inspiration for William Inge's play "Bus Stop." It later was made into a movie starring Marilyn Monroe. The spot, which later was known as the Almeda Hotel and the Amanna Elan Hotel, again is the Myers Hotel. Mollie Myers was known for serving fine fried chicken at the establishment, which also was a bustling bus stop years ago.
8) Lodging choices. At one time, it was thought that Tonganoxie had 15 different hotels. That's not the case these days, though studies have indicated the community is a prime spot for motels to provide a new locale.
9) Summer recreation. Tonganoxie Water Park is a big attraction these days in Tonganoxie, but before the spiffy aquatic center came to be in 2008, the land was home to Chief Tonganoxie Pool. That pool served the community for some 80 years.
10) A design of its own. Tonganoxie has its own quilt pattern. The Tonganoxie Nine Patch was designed in honor of the Ladies Association of the Congregational Church in Tonganoxie. Madame Carrie Hall, a seamstress from Leavenworth, began collecting quilt block designs in the 1920s. She went on to co-write a book, "The Romance of the Patchwork Quilt in America," published in 1935. Her collection of more than 800 quilt blocks that she pieced is in the collection of the Spencer Museum of Art on the Kansas University campus in Lawrence.
11) Aviation connection. Reuchlin Wright, the older brother of Wilber and Orville Wright, lived in Tonganoxie. He taught school for a short time, was a clerk for a lumberyard and he ultimately moved to Kansas City, Mo., were he again was a clerk for a lumberyard. In 1901, he moved to Tonganoxie where he raised cattle and seed corn. The Wright brothers were thought to have done some aviation tests on the farm east of town.
12) Aviation connection, part II. Amelia Rose Earhart is a 2001 Tonganoxie High School graduate with a passion for flying. She's made a career as a traffic reporter for network affiliates, but also has successfully completed the trip her namesake set out to accomplish. She made the symbolic trip around the world a couple years ago, landing in July 2014 in California after the successful trip.
13) Years of service. Two Tonganoxie physicians served in their practice for a combined 114 years. Dr. Phil Stevens served for 60 years (1955-2015) and Dr. Walter Coe practiced for 54 years (1896-1950). Stevens was also known as Tonganoxie Phil, the local answer to Punxsutawney Phil. He enjoyed giving weather prognostications each year to local media. Last year, Stevens celebrated his 60th year practicing family medicine. That night, he died in his sleep.
14) War hero. On July 1, 1960, an RB-47H reconnaissance bomber was shot down over the Barents Sea by a Soviet MIG-17. There were two survivors — Freeman Bruce Olmstead and Col. (then Capt.) John R. McKone. Both men were transferred to Lubyanka Prison in Moscow, where they were held in solitary confinement. McKone was a Tonganoxie resident.
From July 1, 1960-Jan. 24, 1961, McKone was continuously interrogated by Soviet Secret Police, while being denied food and sleep. Throughout this ordeal, he refused all attempts to give up any sensitive information to his captors.
McKone was awarded the Silver Star for his actions during the Cold War. His release was four days after specifically for the inauguration of President John F. Kennedy.
15) Star of screen. Tonganoxie's Jack Hoey was a silent film star. His film "Tracy the Outlaw" can be seen at the Tonganoxie Community Historic Site.