Ace has a new place for hardware in Tonganoxie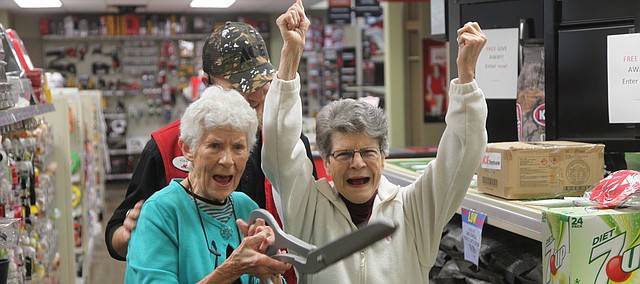 Frankie Walker and Ruth Robertson have been shopping at Brothers Market for years.
They said they love the store and all the friendly workers.
It would be fitting that two of the stores most loyal customers would be the first to purchase items at the new Ace Hardware, about 3,500 square feet on the north side of the Brothers Market building. The main entrance to the new store within a store is north of the grocery checkout lanes.
Walker and Robertson are niece and aunt. They bought light bulbs for the store's first purchase.
They also helped cut the ribbon at the grand opening Wednesday, Nov. 1.
The two loyal customers were excited to have the new store in town.
"We love Tonganoxie," Robertson said. "We're proud to be here."
Several members of the Tonganoxie Business Association gathered with Ace Hardware and Brothers Market officials for the big opening. Cake, cookies, orange juice and coffee was served.
Visitors also filled out forms for drawings the week of Thanksgiving for a Craftsman tool box and a Weber propane grill.
Chris Small, who came to Tonganoxie from Topeka four years ago, served as a manager for Brothers Market during that time. He now is the Ace Hardware's first manager at the Tonganoxie location.
He said the store carries some 12,000 items, but it has access to a full 80,000 items that can be special ordered and delivered to the store.
Small has three employees completing his Ace Hardware team. The store is open the same hours as Brothers Market, 7 a.m.-9 p.m., and customers can get groceries and hardware and pay for all in one lane.
"We're just really excited," Small said.
Ace Hardware is one of many new businesses in Tonganoxie. Look in future editions of The Mirror for more profiles on new businesses.