Late resident's proposed projects laid out at Tonganoxie City Council meeting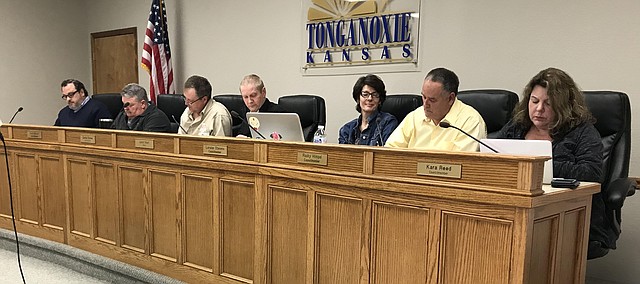 Per Larry Meadows' wishes, his wife, Lois Meadows, spoke before the City Council during open session about two projects Larry hoped could be done in the coming years.
Larry Meadows, an involved community member for several years, died last month at the age of 76.
In his final days, he worked with others in the community and his wife to pitch a couple ideas to the council.
The first one Lois, a former Tonganoxie mayor herself, pitched to the governing body was a community center. Larry thought the community was in need of such a facility, which he envisioned having a basketball/volleyball gymnasium, elevated walking area, snack bar, indoor swimming, meeting rooms, a community room and offices for the Tonganoxie Rec Commission.
In a prepared statement Lois read, Larry admitted the project was ambitious and would take a good amount of money to build, but he asked that it be considered for a project in five to 10 years.
He asked that the mayor appoint a committee with a diverse cross-section of community members to explore options for such a facility.
Another project would be "an outstanding asset to the community and less costly," Lois Meadows read.
Larry, who with his wife came to Tonganoxie nearly 50 years ago, would like the city to consider archways be built.
He envisioned one at U.S. Highway 24-40 and Fourth Street that would welcome people to the downtown area and another at U.S. 24-40 and Main that would direct folks to the same district from that direction.
Larry thought local, qualified workers could help in the process to help reduce costs.
Tonganoxie High School teachers Tony Maurer and Shelby Siemens, who both teach welding courses at THS, offered to be involved in the building of any archways.
Maurer said they would offer to have students help in building the gateways, with the caveat that their work meets proper requirements and specifications.
"We'd like to take that on," Maurer said.
Audience members applauded the teachers after they pitched their idea to the council.
Mayor Jason Ward also chimed in about Larry's ideas.
"It doesn't surprise me a bit that he is always planning for the future of Tonganoxie," Ward said. "Ninety percent of conversations with Larry were about the future of Tonganoxie."
Ward noted that Larry knew Ward's father and that Larry and Lois were some of the first people to welcome him when he came to Tonganoxie.
"My dad worked with Larry, but didn't know me from Adam," Ward said. "He welcomed my family."
The mayor continued to praise the longtime community member.
"We lost a great leader in Tonganoxie … I think it's our job to continue to push toward those dreams and capture that vision," Ward said. "Larry didn't have a harsh word to say about anybody. Civility, loyalty and joy and friendship he brought to everybody he touched.
"But I'm glad we've had the opportunity to know Larry and we're so lucky he chose Tonganoxie."