Basehor mayor charged with felonies
Charges allege he had sex with prison inmates
Charges were filed Thursday against the mayor of Basehor, alleging he had sex with two inmates at the state prison where he works.
John Pfannenstiel, 38, who has been Basehor's mayor since 1997, was charged in Leavenworth County District Court with one count of taking contraband into a correctional facility and two counts of unlawful sexual relations with inmates.
A preliminary hearing for Pfannenstiel is scheduled for 2 p.m. Wednesdayin Leavenworth County District Court.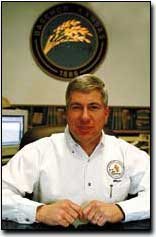 Roger Marrs, deputy county attorney, said the contraband was three pair of jeans and a watch battery. The sex charges are in connection with consensual sodomy with two inmates at the Lansing Correctional Facility, where Pfannenstiel is a correctional officer.
Marrs said the decision to file charges was based on an investigation by officials at the prison.
Leavenworth County sheriff's Lt. Pat Sparks said Pfannenstiel was booked into the county jail at 1:06 a.m. Wednesday and released about 10 hours later under a $10,000 personal recognizance bond. Kansas Department of Corrections officers arrested him.
Attempts to reach Pfannenstiel have been unsuccessful.
Bill Miskell, Kansas Department of Corrections public information officer, said an investigation had been conducted during the last several weeks.
"Which did result in John Pfannenstiel being arrested," Miskell said. "And we've forwarded all of our investigative reports to the county attorney's office and it will be his decision as to what charges were actually filed."
Allegations of illegal activity had sparked the investigation, Miskell said.
"Any time we receive that kind of information, we do conduct an investigation," he said.
Sexual contact between inmates and prison employees is a serious crime, Miskell said.
"The Department of Corrections requested from the Legislature several years ago that any kind of sexual contact with an inmate be a felony crime," Miskell said. "Any time that we develop that kind of information, we take the appropriate disciplinary action. This is the kind of activity that we do not tolerate."
Miskell said Pfannenstiel still is a state employee.
"He is still employed as an employee of the Department of Corrections," Miskell said. "Routinely in these kinds of cases, an employee will be placed on leave, pending other disciplinary action. But as far has his specific status he's still employed by the Department of Corrections."
Pfannenstiel, who started working at the Lansing Correctional Facility in January 1986, is a full-time employee with a Corrections Officer 2, or sergeant ranking, Miskell said.
As of last Friday, LCF had 2,489 male inmates. A total of 530 uniformed staff officers are employed at the facility.
In an interview with The Mirror last March, Pfannenstiel said he grew up in the Leavenworth and Lansing area and attended high school in Lansing. He attended classes at Kansas City Kansas Community College and moved to Basehor in 1988. In 1992, Pfannenstiel unsuccessfully ran as a Republican in the August primary for Leavenworth County Commission.
He was elected to the Basehor City Council in spring 1991 and re-elected four years later. He was elected mayor of the southern Leavenworth County city in spring 1997 to a four-year term.