Journalism publication chastises
TV

station about investigative story on Tonganoxie fertilizer business
Chalk one up for Bill McGraw.
In the March/April edition of Columbia Journalism Review, Gloria Cooper, CJR's deputy executive editor, speaks out against a Kansas City television station for a report it aired Dec. 1.
Editor's note: Columbia Journalism Review is a nationally recognized analyst of media issues.
The magazine ranks among the 10 most influential news media in America. CJR's policy statement, included in every issue, reads, "...to assess the performance of journalism in all its forms, to call attention to its shortcomings and strengths, to help define -- or redefine -- standards of honest, responsible service ... to help stimulate continuing improvement in the profession and to speak out for what is right, fair and decent."
Moreover, Walter Cronkite has called the magazine "more than a mirror of the industry. CJR is its conscience."
The essay below, published in the March/April edition of CJR, is reprinted with permission:
Dart to KCTV, the CBS affiliate in Kansas City, Missouri, for forcing a story to bloom despite its genetic flaws. Three weeks after KMOV in St. Louis aired its fruitful investigation into the easy accessibility of the explosive fertilizer ammonium nitrate in Missouri, KCTV set out to sow similar seeds in Kansas. This time, however, the crop failed. Six dealers approached by the reporter, Dave Helling, gave him an unequivocal no -- a testament to efforts in Kansas to keep ammonium nitrate out of the wrong hands. Not until the seventh stop, McGraw's Fertilizer in Tonganoxie, did Helling hit pay dirt -- or so it seemed. "It only takes one," Helling ominously observed as a truck was loaded with bag upon bag of what Helling said was ammonium nitrate -- and what McGraw tried to tell him couldn't make a bomb. "But he's wrong," the reporter asserted. "Experts told TV5 that the ammonium nitrate bought from McGraw could be made into a bomb. Remember, we bought 500 pounds." In fact, however (as the Tonganoxie Mirror later made clear), what Helling knowingly had bought -- and somehow neglected to mention -- was not pure ammonium nitrate but a blended product called 20-10-10, a common lawn fertilizer widely available. To be sure, as Helling claimed, "Mixed with diesel fuel and in the right proportions, it could cause an explosion -- but only, experts told CJR, if the would-be bomber had an eon to spend painstakingly picking out the tiny grains of ammonium nitrate, one by one, from the tiny grains of phosphorous and the tiny grains of potash. Such inconvenient details notwithstanding, Helling solemnly concluded, "It is clear tonight -- very clear -- that security remains a concern across the country." Indeed it does. It is also clear -- very clear -- that shoddy journalism remains a concern across the country. Just ask Mr. McGraw.
In the KCTV-5 report, broadcaster Dave Helling said he and his crew had purchased 500 pounds of ammonium nitrate at McGraw Fertilizer, which is about five miles north of Tonganoxie. But in fact, he bought 20-10-10 fertilizer. The 20-10-10 indicates the fertilizer is a common blend containing ammonium nitrate, phosphorous and potash.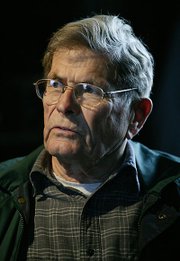 But Helling insinuated that he had bought from McGraw not a 20-10-10 blend, but pure ammonium nitrate.
Ammonium nitrate was one of the ingredients used in the April 19, 1995, bombing of the Alfred P. Murrah Federal Building in Oklahoma City. The ammonium nitrate used to make this bomb was purchased in Kansas. In the wake of that act of terrorism, Kansas laws changed. It is now illegal to sell packaged ammonium nitrate.
But agricultural producers may buy it in bulk for crops. And, ammonium nitrogen is a common ingredient in lawn fertilizer blends sold at retail businesses.
The broadcast showed file videotapes from the Bureau of Alcohol, Tobacco and Firearms of explosions from ingredients containing ammonium nitrate.
"Ammonium nitrate," said KCTV 5 reporter Dave Helling, "It's a cheap and common fertilizer, and when mixed with diesel fuel in the right proportions ... it could cause an explosion."
Helling claimed that his crew found it fairly easy to obtain ammonium nitrate.
"Six stores actually told us no, but it only takes one," Helling said. "McGraw Fertilizer ... sold us all we wanted."
Not what it seemed
McGraw, who is 81, was devastated when he saw the news report. He had assumed -- from the friendly tone of the interview with Helling -- the broadcast would be a feature story about his long-time fertilizer business.
After the newscaster and cameraman left, McGraw and Dorothy Lean, secretary and treasurer of McGraw Fertilizer, had even joked about being future movie stars.
But the broadcast was nothing like he thought it would be.
"I was sick to my stomach just thinking about it," McGraw said. "I'm thinking that maybe the FBI could walk in the door because it's against the law to sell ammonium nitrate. He (the newscaster) said he'd bought it here -- he didn't say he bought 20-10-10 -- he said he bought ammonium nitrate."
The day after the story aired, McGraw called The Mirror, saying he'd like to be able to tell his side of the story.
He wanted people in his hometown to know the facts. What he didn't know was that, because of the Internet, the story ultimately would spread far beyond Tonganoxie.
Attention-getter
The Mirror's story, "Televised report shocks business owner," ran in The Mirror on Dec. 8, both in the print edition and on The Mirror's Web site: www.tonganoxiemirror.com.
According to David Ryan, who works in the online department of The Mirror's parent company, The World Company, the online version of the story had received 22,598 page views in the first five days after it was posted.
McGraw received supportive letters and e-mails from dozens who read the story.
"It's funny to see how that thing got so far -- it went to New York and Alaska," McGraw said. "That ol' Mirror gets around, doesn't it."
And though writers encouraged him take legal action against the television station, McGraw said that's not in his plans.
But on Friday, after reading Gloria Cooper's article in Columbia Journalism Review, McGraw felt vindicated.
"It was pretty nice, wasn't it," McGraw said. "It makes me feel real good."