Volunteers lend green thumbs to park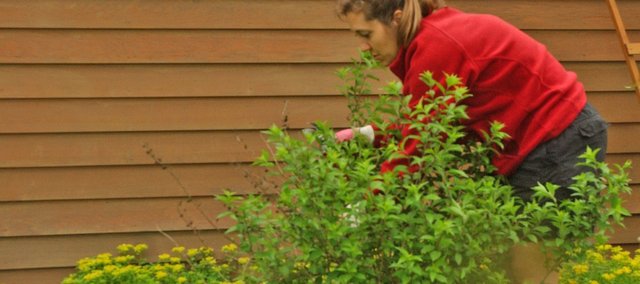 When Alice DeMoss and Susan Quisenberry walk the gardens of Magnatech Park, they see more than flowers.
"Cindy Murray of Lost Corner Farms — the white roses came from her," Quisenberry said. "There were several places around town the late Jean Lenahan used to take care of. A lot the plants came from her.
"It's a memorial to several people. I could just walk through there and point out where this plant came from and that plant come, and it's really kind of a neat thing."
The garden is also a tribute to the volunteer master gardeners who have helped plant and tend it since 2000, when Aggie Graveman contacted the local gardening experts about starting flowerbeds on the land donated by her son and daughter-in-law and Magnatech owners, Bill and Kathy Graveman.
More recently, Peruvian Connection has made a number of donations of plants and materials to the gardens, including the potting shed near the park's parking lot near First and Pleasant streets.
In addition, Angie Andrews of Peruvian Connection currently volunteers at the garden, one of many local master gardeners who have gave their time, sweat and knowledge to the effort, but DeMoss and Quisenberry are the only ones involved since the start.
They and the other volunteers arrive at 7:30 on Tuesday mornings during the gardening season to tend the flowerbeds and plants that stretch along the walking trails and surround the gazebo, parking lot and potting shed.
The joint effort at the park offers something different from her home gardening, Quisenberry said.
"Gardening can be a very solitary experience," she said. "It is good therapy for people. When you get down there and start digging and pulling weeds, you get a lot of time to think.
"But we enjoy working together (at the park). That's when you really start learning, when you start working with other gardeners."
DeMoss has taught her a lot about composting during the 11 years they worked together at the park, Quisenberry said.
Her interest was traditionally flowers, said Quisenberry, who owned a downtown florist shop for several years. She's recently taken more of an interest in vegetable gardening and that is another area she learns from DeMoss, she said.
"She raises blackberries, gooseberries and strawberries," Quisenberry said. "She's really knowledgeable about that kind of thing."
By contrast, DeMoss said she was now getting more into flowers, although she still gave a lot of time and attention to her berries and vegetables at her home plots.
Maintaining the park's flowerbeds allows the local master gardeners to fulfill one of the requirements of the Leavenworth County Kansas State Extension program, which allows enthusiasts to trade volunteer time for 40 to 50 hours of free horticultural courses.
"One of the requirements is we provide 20 hours of volunteer work on an approved project," Quisenberry said. "The park allows us to get those here."
They apply a lot of their knowledge to the park's gardens to adapt them to changing conditions, especially with the loss of trees and shade along west park boundary from flooding.
"It changes from year to year," Quisenberry said. "We have a really big bed near the main sidewalk. We had a lot of invasive plants down there that got out of control. We're taking that back to about half its size."
The hard work is rewarded by compliments from those who see the gardens from the street or the park's walking trail, DeMoss and Quisenberry said.

"People enjoy it," DeMoss said. "We get a lot of foot traffic through the park, so they tell us they appreciate it."
With the compliments come questions, which are welcomed. Master gardeners are expected to share their knowledge and disseminate research from K-State.
One of the requirements is that master gardeners help man the Leavenworth County Extension's master gardener hotline at (913) 364-5700. They also help at the master gardener's booth at the Leavenworth County Fair.
But the two master gardeners said they field questions elsewhere as well.
"I work in the library here in town," DeMoss said. "People ask me questions there. I suggest books and information on the questions they have.
"That's really what the master gardener's program is all about."
While in the park, her critical eye spots all the unwelcome plants that occupy much of the volunteers' time, but she is pleased with the park's appearance when driving down First Street, Quisenberry said.
It's her hope the volunteers' work could spur others to improve their yards or start gardens in other open spaces around town, as Lenahan once did, Quisenberry said.
"Maybe we do inspire some people," she said. "There are some pocket gardens around town."
More like this story