McLouth's Welsh to continue softball career at
KCKCC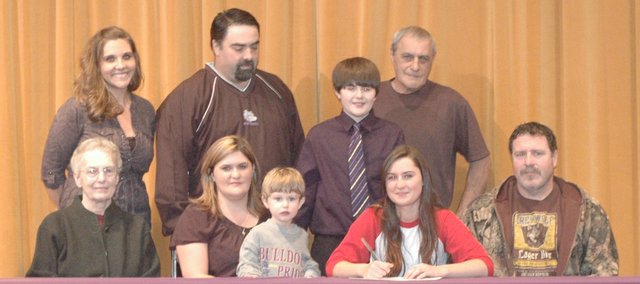 McLouth — Each of the last three seasons, McLouth High senior Emily Welsh has been a mainstay in the Bulldogs' starting softball lineup. Welsh is approaching her final season in a purple and gold uniform, but 2012 won't be her last year on the diamond.
She signed a national letter of intent to continue her career at Kansas City Kansas Community College on Thursday in the high school auditorium. Family, friends, coaches and teammates were on hand to watch Welsh secure a spot on the Lady Blue Devils' roster.
"It feels pretty good just getting it out of the way. I don't have to worry about it any more," Welsh said. "I got looked at by a couple other schools, but KCK had the right thing for me. They just had the right kind of people and the right kind of schedule for me."
Welsh has served as the Bulldogs' starting right fielder since her sophomore season, but will move to center field this spring. She enters her final campaign with a career batting average above .400.
However, according to MHS coach Ballard Patterson, several of her hits can be attributed to more than just her bat.
"People always talk about a five-tool player, and that fifth tool is speed. Emily can fly," Patterson said. "She gets the ball in play all the time, and when she gets the ball in play, she's a tough out. Any mistakes at all and she's safe."
Softball has been a part of Welsh's life since she was in kindergarten, but she's also donned the purple and gold in other venues. She ran two years of cross country and played a season of volleyball during her MHS career.
She's also proven successful in the classroom, as she was named to the school's honor roll in January.
"She's a good kid. She's fun to be around, got a real good sense of humor," Patterson said. "She's just a real hard-working, smart kid. We've been real fortunate to have her."
Welsh is the second Bulldog senior to sign a softball LOI. She joins teammate Kendra Leach, who signed with the University of Missouri-Kansas City on Nov. 9, 2011. Patterson estimated 70 percent of his seniors have gone on to play in college since he took over the program in 2006.
MHS will open its 2012 season with a trip to Perry-Lecompton on March 26. Welsh has just one year left as a high schooler, but rest assured, she'll always remember the lessons she learned during her time as a Bulldog.
"I think it taught me a lot about working hard," she said. "I have to work for what I want, and that will get me where I want."