Former McLouth star to return as Lyndon assistant
Stewart played, coached for Bulldogs before moving to
LHS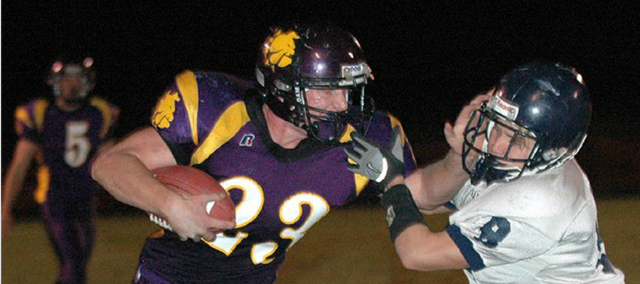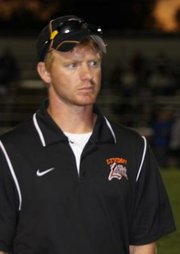 For four years, Kevin Stewart helped shape the McLouth High football program into what it is today. Stewart is no longer a member of the Bulldog coaching staff, but perhaps it's fitting that he'll get to participate in the team's first playoff season in seven years.
Stewart, the son of current MHS coach Chris Stewart, is in his first season as wide receivers and defensive backs coach on a Lyndon High team that will travel Friday to Stan Braksick Sports complex for a regional playoff bout with the Bulldogs.
"Throughout the year, we were kind of anticipating this," Chris said. "Both of us were kind of happy thinking about Lyndon coming to McLouth to play to go to the next level. It's a good feeling to be in that position as a coach, and even as a dad. Seeing your son grow and have an opportunity, it's just a good feeling."
Kevin's ties to the MHS football program began when he was a freshman in 2002. As a senior three years later, he amassed nearly 2,500 all-purpose yards while leading the Bulldogs to an undefeated regular season and their first playoff appearance in seven years. He returned to MHS as a running backs and defensive backs coach when Chris took over the program in 2008 and stayed in McLouth until the end of last season.
Oddly enough, this year's McLouth squad broke another seven-year postseason drought, thanks in large part to the progress Kevin and his fellow coaches made since their arrival.
"The biggest thing is we earned the success we had at McLouth," Kevin said. "We had to work very hard for it. We started off with a very young team, so anything we got was earned by those players and coaches. Coming into Lyndon, having that work ethic has made me understand the time it takes to be successful."
In Kevin's first season at Lyndon, the Tigers have gone a perfect 10-0 and reached the second round of the Class 2-1A playoffs for the first time since 2007. Head coach Rod Stallbaumer's squad has put together three straight winning seasons, averaging better than eight wins per year during that span.
While Chris and Kevin both admitted there will be something different about seeing each other on opposite sidelines, neither expects that to take away from the hardworking mentality that has translated into so much success for both programs in 2012.
"The bottom line is, a coach is a coach," Chris said. "No matter where you're at, you work as hard as you can to win a football game. He knows their plays and their kids, and he'll do everything he can to help them win."
When Friday's meeting arrives, Kevin said he'll enjoy the opportunity to see familiar faces and step back on the field he once called home. But, in the grand scheme of things, the opportunity to share the same field with two coaches who taught him so much may hold more significance than a simple homecoming.
"It's just an exciting game in the fact that I'm coaching against former players that I've put time in with, but I also have a lot of respect for my father and coach Stallbaumer and the time they've put in," he said. "I'm thankful for the time I've put in under both of them."
Playoff action is set for 7 p.m. Game notes are available here.